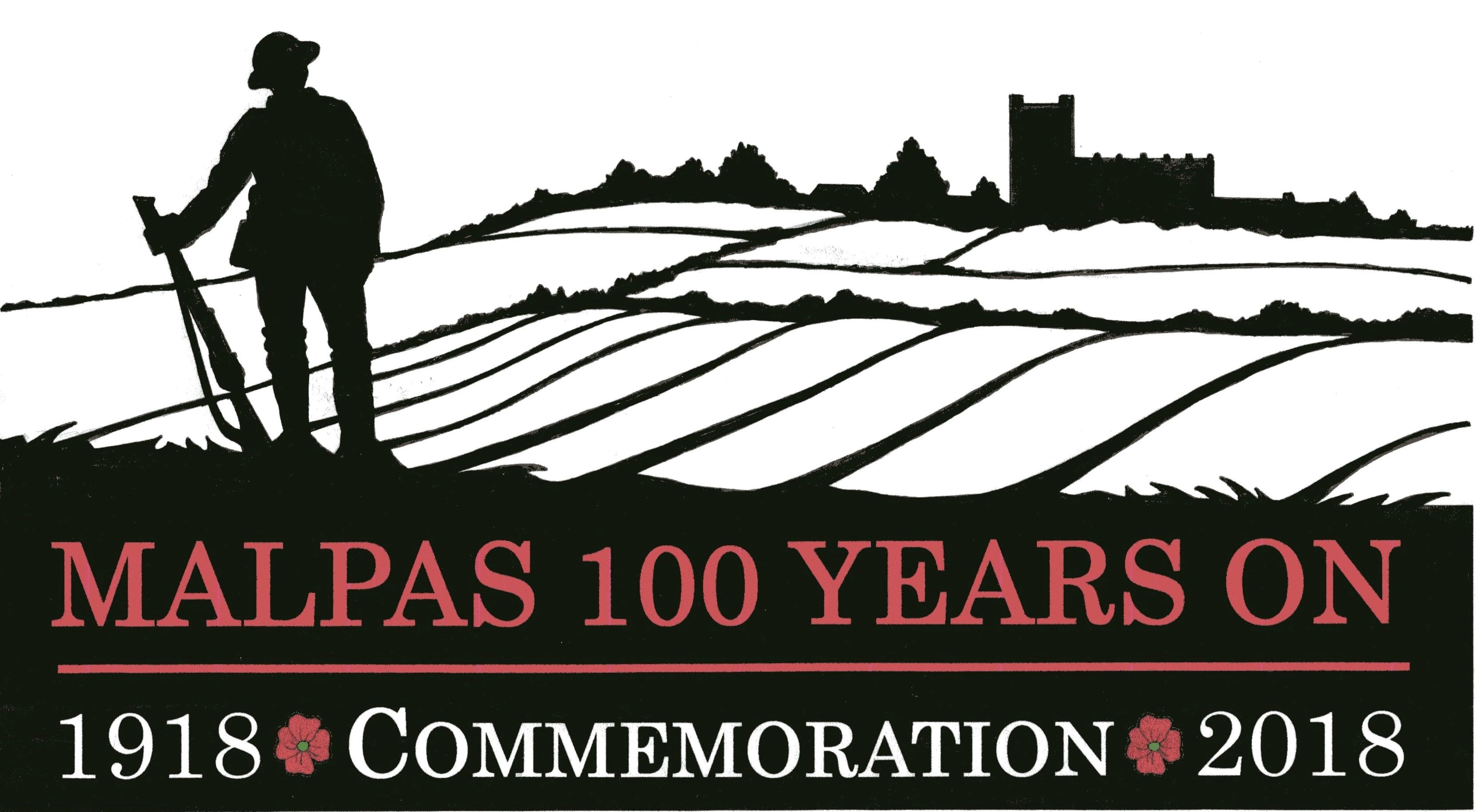 Press release number 3
MALPAS 100 YEARS ON — POETRY COMPETITION
"Malpas 100 Years On" Committee are inviting entries for poems written to commemorate The First World War. The poetry competition launches activities in preparation for a three-day event taking place in Malpas on 9th, 10th & 11th November 2018. Poems will be selected for display during the commemoration weekend and an overall winning entry taken to Menin Gate in April.
Committee member Sharon Jones is visiting schools to encourage youngsters locally to develop their knowledge and understanding of The Great War. Liaising with Malpas Alport, Bickerton primary schools and Bishop Heber High School, Sharon is introducing colouring/drawing and poetry competitions to all ages. Engaging history learners in local/family research she hopes the young people of Malpas will gain a wider understanding of the impact The Great War had on their community, friends and family.
"We hope the whole community will get involved, the key message is to broaden the appreciation of 'Those That Gave All' for their country," says Sharon.
Open to local schools and the wider community the poetry competition is free to enter. *Entries close on 26th March. The selected overall winning entry from "Malpas 100 Years On" poetry competition is to be put forward for display by The British Legion Riders Branch at Menin Gate during their visit in April. The Menin Gate Memorial is dedicated to British and Commonwealth soldiers who died in the Ypres Salient who have no known grave.
*Entry Conditions for Malpas 100 Years On Poetry Competition March 2018.
1. Entry categories: Junior ages 7 — 10 years, Senior ages 11 — 17 years, Community 18 years and over.
2. Maximum length, excluding title and any blank lines: Short Poem -10 lines.
3. Each entered poem, including its title, should be clearly written or typed single-spaced in a standard 10 or 12 point font on one side of a single A4 sheet. Include your name and entry category and school/year details if appropriate. Community entries to include contact details.
4. Entries close at midnight (local time) on 26th March 2018. Entries should be submitted through your school, via e-mail editor@malpascheshire.org or delivered in an envelope marked "Poem" to the red Parish Council post box in Londis Shop on the High Street. — Entries after deadline cannot be accepted.
5. Poems must be the original work of the entrant, unpublished, and must not have won a prize in any other competition. Only one entrant per person.
6. Please keep a copy of your work, as we cannot return entries. Please check your entry before you send it, once submitted it cannot be changed.
7. The judge's decision is final, and no correspondence will be entered into. Results should be available on http://www.malpascheshire.org after 15th April 2018.
8. Copyright remains with the author, but "Malpas 100 Years On Committee" reserve the right to display entries on this website, and to display, broadcast, or use them in promotional literature for a period of twelve months after the competition's close. *Judges reserve the right not to consider submissions which do not comply with conditions outlined above.
xxxxxxxxxx
Press Release Number 2 — February 2018
The Malpas Times — Latest news from the home front.
11 o'clock on the morning of 11th November will mark 100 years since an Armistice came in to effect, formally ending the First World (Great) War.
A Malpas 100 core committee, has been formed to commemorate this centenary in our village, and they are now working hard on a project, which will result in a full programme of related events over the weekend of 9th — 11th November 2018.
The aim of the project is to provide current village residents, with a glimpse of what life was like for individual living through those times, both the soldiers fighting for their country and their families who endured the hardships on the home front.
Saturday 10th November will host a village parade with individuals dressed in attire from the 1914's era, and vehicles and other forms of transport relevant to that time period in history. The parade will terminate on the Recreation Ground where there will be relevant events to entertain the children.
To support this event, it is hoped to have the High Street and the shop windows decorated in an authentic manner.
Sunday 11th will be held over for the Remembrance Service in St. Oswald's Church, supplemented in the evening with readings, Choir singing, sounding of the last post, and cumulating at 7:00pm with the lighting of a beacon on Castle Hill.
Exhibitions of both military and domestic equipment, and supporting information are planned for both the Jubilee Hall and the High Street Church.
The committee are now looking for artefacts, memorabilia or photographs from the period and would be interested if individuals are willing to loan them for the event.
If you are interested in getting involved then contact the secretary 01948 860333.
Richard Hoffman
Chairman — Malpas 100 Years On Committee
xxxxxxxxx
Press release number one
At 11 o'clock on the morning of 11th. November 1918 an Armistice came in to effect as a result of which ' the guns on the Western Front fell silent' and the First World War (or The Great War) ended.
Every year since, we have remembered that Armistice on 11th. November (or the Sunday nearest to that date) with Church services and ceremonies at The Cenotaph in London and War Memorials throughout the country. In recent years, if it has not fallen on a Sunday, we have observed an additional two minutes silence on 11th. November.
With the aim of arranging a programme of events (to be called "Malpas 100 Years On") to mark the 100th. Anniversary of The Armistice a committee has been formed.
The emphasis of the programme will be commemoration not celebration. Central to the programme will be The Remembrance Service in St. Oswald's Church (at 11a.m. on 11th. November 2018 which will be a Sunday).
Through this magazine the committee will keep you informed about the programme. The intention is that it will include a variety of events to appeal to all residents of Malpas and District whatever their ages.
Amongst the events being planned is an exhibition in The Jubilee Hall. Schoolchildren are being asked to help in providing what will go on display by finding out what contribution, military or otherwise, their families made in the First World War, gathering photos and memorabilia and writing up their family histories both for display and for reading out in a live entertainment.
If you have family memories of the First World War which you could write down for display and/or memorabilia or photographs which, nearer the time, you would loan to the exhibition, please could you let the committee secretary know NOW on 01948 860333.
It would greatly assist in the planning.
Thank you very much.
Richard Hoffman
Chairman
Malpas 100 Years on Commitee