ANTOINETTE SANDBACH ENCOURAGES CONSTITUENTS TO UNITE AGAINST DEMENTIA
By Webteam
ANTOINETTE SANDBACH ENCOURAGES CONSTITUENTS TO UNITE AGAINST DEMENTIA
The Member of Parliament for Eddisbury is asking constituents to take part in Cheshire Memory Walk which is taking place on Saturday 7th October at Cholmondeley Castle.
Memory Walk is Alzheimer's Society's flagship fundraising event, and this year their aim is to have over 100,000 people across the country to take part, to help raise £9 million in order to reach more people affected by dementia through the society's support, campaigning and research.
The event provides a great opportunity for people to come together, celebrate loved ones affected by dementia and raise money to reclaim the future. This is the first year the Cheshire Memory Walk will take place at Cholmondeley Castle following the success of last year's event at Delamere Forest.
Ms Sandbach commented:
"As a dementia friend I would urge people to take part and support this great initiative. With around 220,000 people developing dementia every year it is vital that we work together to ensure that long term help and support is given to those affected along and hopefully defeat dementia. This is a policy area which I follow very closely and I want to ensure that there is a long term commitment and strategy for dementia in Eddisbury."
For details on how to sign up go to: https://www.memorywalk.org.uk/.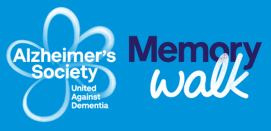 Alzheimer's Society Memory Walk
Memory Walk is a sponsored walk for all ages and abilities to unite together to raise money to defeat dementia. The walks are spread across England, Wales and Northern Ireland and each walk will take on a different route through either a city, woodlands or a park.
Cheshire Memory Walk will take place on Saturday 7th October at 11am located on a field within the Cholmondeley Castle grounds. Participants can choose from either a 3km or 7km walk.
So far the people of Cheshire have raised £18,102 — See HERE for an updated figure
Registration will close on Thursday 5th October 2017.
popular recent storiesAlso in the news