ARCHAEOLOGICAL REMAINS FOUND
By Webteam
EXCITING ARCHAEOLOGICAL REMAINS FOUND DURING NORTHGATE STEPS REPAIRS IN CHESTER
Repairs to Chester's city walls at Northgate steps have unearthed exciting archaeological finds.
Archaeologists working on the site have discovered remains relating to both the medieval and Roman gateways, which were previously unknown.
The early 19th century access steps leading up to the city walls were showing clear signs of structural instability and urgent repairs were needed.
The project is the result of detailed discussions between engineers at Cheshire West and Chester Council and their team of specialist advisers and contractors.
During the controlled removal of the steps, archaeologists have been monitoring and recording the work and below the footprint of the steps interesting archaeological remains have been exposed.
The area of the North Gate has a complex history and archaeologically is a very sensitive location. On the spot once stood a main gateway (Porta Decumana) to the Roman fortress. The subsequent medieval North Gate also housed a gaol, but this was demolished in 1808 and replaced with the current neo-classical structure in the early 19th century.
Archaeologists have discovered massive stone foundations, thought to represent the remains of a Roman gate tower — one of a pair — that once flanked the northern entrance to the Roman fortress. There is also evidence to suggest that 1st-century AD timber gates and towers preceded the stone towers.
Evidence suggests that the Roman foundations that ran back at right angles from the current line of the city walls, were chopped through, recycled and incorporated into later fabric of the walls, possibly during the early 19th century. However several courses of Roman gate tower masonry were left untouched, sealed beneath the current steps — until now.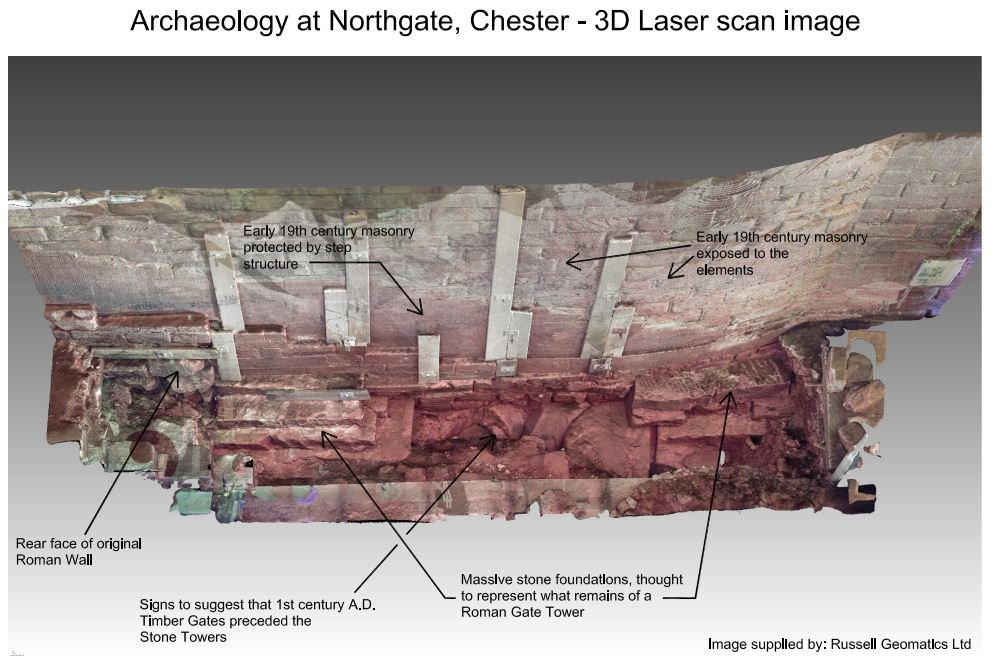 Little is known about the four gates that were placed in each side of the Roman fortress, and any surviving evidence is considered vitally important for our understanding of this site.
The foundations for the new steps will be designed to leave the important archaeological remains undisturbed. Indeed, imaginative ways of displaying the Roman tower remains beneath the new structure are currently being explored.
To the west of the steps a chamber, which was discovered within the wall, was also found to be all that remained of a pair of cottages built up against the inner face of the wall in the 18th century.
Current dismantling work has revealed evidence to show this section of the wall may also be moving. Further investigation will now take place to determine how best to halt the movement and repair the wall. This section of the walls will remain closed to the public until it is secured.
As a Scheduled Monument all alterations and repair work at North Gate are being carried out under the guidance of Historic England.