A NEW MALPAS HISTORY COLLECTION
By Webteam
A NEW MALPAS HISTORY COLLECTION
Malpas local historian David Hayns has recently published 'A MALPAS MISCELLANY', which is a generously illustrated 36 page booklet comprising a collection of articles and poems about Malpas and the surrounding area.
Perhaps the most topical article is about the two Rectors, who formerly served the parish, and their links with the 'King's Chair' which, until recently, stood in the 'Red Lion' and has been purchased at auction by a group of the pub's 'regulars '.
The article includes the full text of a long poem by a 19th century rector, claiming to recount the legend behind the Chair.
Other articles include:
the town's links with the Romans, including the Malpas Tabula, a military 'pension certificate', which is now on display in the British Museum
the story of the Malpas Fire Service, from when the parish purchased its first two fire engines in 1832
Malpas churches and chapels
the Women's Institute on the 'Home Front' during the second World War
music and drama in the town during the 1940s and 1950s
windmills which have vanished from the area
the visit of Celia Fiennes to No Mans Heath in 1698
the Clayhole in Wrexham Road
local members of the Cheshire Yeomanry who became involved in a 'punch-up' at Aldershot when training for the Boer War campaign
the provision of lower cost housing in the town
The booklet is on sale at £5.00 from N & J Owen (Malpas), BookShrop (Whitchurch) and Bellis Brothers (Holt), or for £6.50 (inclusive of postage) from David Hayns
Stoke Cottage,
Church Street,
Malpas, Cheshire
SY14 8PD
Tel: 01948 860486
E-mail: david@hayns.com
popular recent storiesAlso in the news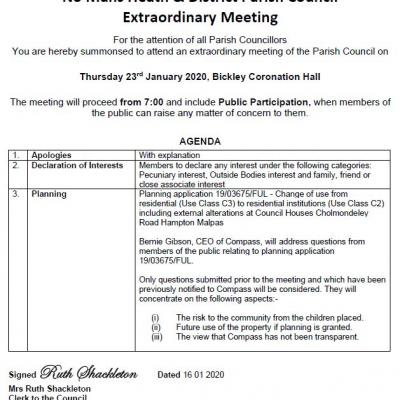 Thu 16 Jan 11:51am | hits: 111
No Mans Heath & District Parish Council Extraordinary MeetingIMG(435800,O...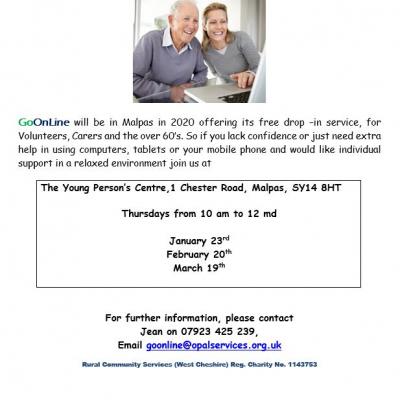 Mon 13 Jan 9:31am | hits: 63
GoOnLine free drop -in servi...