Community Champion update
By Webteam
There is plenty of important information in this update and you can play your part by sharing it as widely as possible across your networks.
We have a video to welcome champions and explain more about the role.
In the seven days up to 5 September, there were 64 confirmed coronavirus (COVID-19) cases across west Cheshire.
This compares to 26 confirmed cases during the previous week (23 to 29 August).
With infections in west Cheshire more than doubling in a week, it has become even more important for people who have COVID-19 symptoms to get a test.
Call:119 or visit: nhs.uk/coronavirus so contact tracing can help prevent the spread of the virus. Symptoms include a new and continuous cough, a high temperature, or a change in or loss of taste or smell.
With schools reopening, international travellers being tested and an increase in the number of people without symptoms being tested, a huge rise in those seeking a test nationwide this week has put strain on the laboratories that process tests.
This has led to booking restrictions being placed on some of the testing sites while laboratories struggle to meet such high demand. Residents are being urged to only get a COVID-19 test if they have symptoms.
From Monday 14 September, it is against the law to meet socially in groups of more than six people whether it be indoors or outdoors.
This ruling replaces the existing ban on gatherings of more than 30 people and the current guidance on allowing two households to meet indoors.
Exemptions include the following.
• A single household or support bubble larger than six
• Places of education and workplaces
• COVID-secure weddings, wedding receptions and funerals, up to a limit of 30 people
• Organised sport and exercise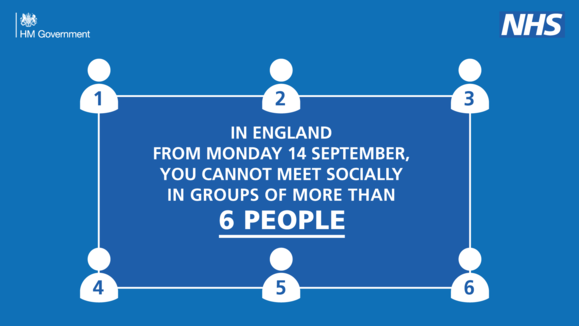 Businesses and public settings where people meet socially, including hospitality and leisure venues, will be legally required from 14 September to record contact details of customers, visitors and staff.
The details must be stored for 21 days and, if required, shared with the Test and Trace service.
Venues could be fined if their premises aren't COVID secure, such as failing to collect contact information or taking bookings for groups of more than six.
As community champions, you can help us support businesses.
Our Environmental Health officers, who are qualified in health and safety, can offer support and advice to businesses, including a site visit, for those that need it.
We want you to let us know whether you spot anything in your local community.
We've set up an online form so community champions can easily get in touch with us.
Increase in cases among under 35s
We're appealing to those aged under 35 to be more COVID conscious as they go about their daily activities. The borough is currently experiencing an increase in positive COVID-19 cases among this age group. Everyone aged under 35 can play their part to protect the whole community by social distancing, covering faces and washing hands.
Please be mindful that there are sometimes reasons why people aren't wearing face masks, such as having a physical or mental illness, impairment or disability. It's important we respect people who aren't able to wear face coverings.
Advise for those with children attending school
Schools have now started reopening and there are some anxieties and concerns among parents and guardians.
You or your child only need to get tested if you have symptoms of COVID-19.
If you have been advised your child has been in contact with a confirmed case, they need to stay at home for 14 days from the last day they had contact with the confirmed case. They only need to get tested during those 14 days if they develop symptoms.
It's important you don't turn up to your GP surgery in case you are infectious.
Welcoming students for the new academic year
First-year students will start to arrive in Chester this weekend and the University of Chester has been working with our Public Health and Environmental Health teams to make sure precautions are in place in response to COVID-19.
The presence of students is extremely positive for local businesses in the city as they will benefit significantly from students spending in shops, bars, restaurants and cafés, making sure they follow the latest guidance at the same time so everyone remains safe.
• More about the measures put in place by the University
Please encourage other people and organisations to become community champions as we want as many people as possible to get involved.
• Become a community champion
We'd love to hear from community champions about how you've been playing your part so far.
If you'd like to share your story, please email: communitychampionsintelligence@cheshirewestandchester.gov.uk.