The Warm Homes Project has begun!

Fuel poverty can cover several groups of people – those who are on a low income, those who are older and particularly vulnerable (usually over 65) and those who may be on benefits or have illnesses that become exacerbated by the cold.
If you know of anyone who would like to enquire as to what benefits they may be entitled to, or if they are particularly vulnerable during these colder months, or just want some energy advice, please send referrals into Information and Advice and action to either Ceri Shotton, Information Services Coordinator or Marina Cassidy, our new Warm Homes Advisor.
Marina can be contacted directly on marina.cassidy@ageukcheshire.org.uk
or 07718 480242
We can provide information and advice on energy and keeping warm, run benefit checks, help to switch energy suppliers and find the best deal, apply for boiler grants, apply for the Warm Home Discount and make sure the people we see are warm and well this Winter.
It is for anyone over 65 and covers the whole of Cheshire. Advice can either be given over the telephone, appointments can be made at the Chester I&A office or we can meet people in the community or in their homes.
Advice can still be given to those under the age of 65.
This project will end on 13th March 2020 so please take this opportunity to refer people over while you can.

Thank you.
Many thanks,
Ceri
Ceri Shotton
Age UK Cheshire
Information Services Coordinator
07467 045144
Please Note: My working hours are Tuesday to Friday 9am – 4pm.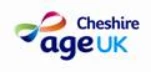 Age UK Cheshire working across Cheshire East and Cheshire West & Chester
"Every legacy and donation left to Age UK Cheshire by your generation will make a vital difference to the next.
Your gift will help to provide life enhancing services and create positive change in later life".
For further information on legacy giving, please visit our website or contact us by email or telephone. You can also donate online at: https://ageukcheshire.charitycheckout.co.uk/Donate#!/.1)