Everyone needs a holiday some time but we all want to come home and find everything as we left it.
Almost half the burglaries happen when a flat or house is empty.
By following the tips set out here, you can help to make your home secure while you are away. Read the tips and plan ahead and tick off the items before you go.
Finally, make sure that you've locked all outside doors and windows and, if you have a burglar alarm, make sure it is set.

And just before you set off it's worth spending a couple of minutes checking that you've done everything you need to.

Help from neighbours
It's a good idea to get help from your neighbours. You could ask them to collect post, sweep up leaves, mow the lawn, open and close curtains, and so on. They could even occasionally park their cars on your driveway. Anything to make the place look lived in.

You can repay the favour by doing the same for them. Warn your neighbours not to put your surname, address or even your house number on your keys in case they fall into the wrong hands.

Let your neighbours know when you will be away and. If you can, give them details so they can contact you, or someone who can act on your behalf, in case of an emergency.

WHEN THE DOOR BELL RINGS
Most people that call on you at home will be honest and genuine in their purpose and needs, but on the odd occasion somebody will turn up unannounced with the intention of tricking their way into your house. Distraction burglars will often distract you at the front door whilst another will sneak into your property by the back. Rarely do people pop round unexpectedly anymore.
If the gas board calls to read the meter they will likely phone ahead or leave a card. Bogus work people may attend and claim that they are there to check on water or gas and some offer to repair your roof. Some call at properties and offer tarmacking or to clean your blocked paving and to cut trees down and if allowed into your property some may use the opportunity to steal from you. If you choose to have work done, never pay the work up front in cash. Victims usually find that they have had money or possessions stolen from inside their home and in many instances only realise they have been duped at some time after the crime has been committed.
So when the doorbell rings, always first check who it is before deciding whether to answer it. Use a spy-hole in the door or peep through a window to check who is at your door. If you are unsure open the front door with a chain fastened. If the person at the door claims to be an official, a salesman, or a tradesman then don't be afraid of asking them questions to prove their identity. If they claim to be from a company then the company name and contact the company to confirm their visit.
Never use a number the caller provides you with.
Check their ID or paperwork
Always ensure your back door is looked when answering the front door
Never keep large amounts of money in the house
Keep keys in a safe place hidden from view
Hide valuables away or in a safe.
Keep out of sight any documents displaying personal details
If you are suspicious then don't hesitate and contact the police on 101 or in an emergency 999.
MAKING RURAL ROADS SAFER
Introduction
Transporting agricultural machinery from one field to another via public roads is a necessity for most farmers. Whether it involves moving produce during the harvest season or relocating heavy equipment from one field to another, the only way to do this is by road. However, due to their size and slow moving nature, this can be hazardous to both agricultural vehicles and other road users.
Each year, incidents involving tractors and other farm machinery occur on public roads which can cause costly equipment damage, injuries and deaths to all groups of road users. In past years numerous people have been injured in road collisions involving agricultural vehicles in Cheshire.
Statistics have shown the group of road users most at risk from agricultural vehicles to be motorcyclists. In past years motorcyclists have been involved in road collisions resulting in serious injuries and fatalities.
All motorists must take responsibility for ensuring their own and each other's safety were agricultural vehicles are involved.
Advice and the law — Mud on the road
Farmers are responsible for cleaning mud off the road dropped on public roads by their own vehicle and livestock.
Mud can be a significant hazard to other motorists, particularly motorcyclists, and can result in serious, even fatal collisions.
Allowing traffic past when causing a tailback
It is inevitable that slow-moving vehicles will cause a tailback on public roads but it is important for the driver tom pull over and allows traffic to pass at the earliest opportunity.
Frustrated motorists may become impatient and attempt to overtake when it is not safe. They do this at their own risk.
Lights
Lights should be kept clean and in good working order to make sure that other road users can see the intended movements of the vehicle.
Amber warning beacons
Amber warning beacons can be fitted to tractors which are not capable of exceeding 25 mph to alert other motorists to the presence of a slow moving vehicle. Under certain circumstances it may be a legal requirement.
RURAL CRIME
Whilst Cheshire is a very safe place to live, work and visit there are occasions when unscrupulous people commit crime which are often undertaken when a criminal sees an opportunity.
There are simple measures you can take to reduce risk of becoming a victim of crime which help to keep both you, your family and the rural community safe.
What can I do to prevent myself becoming a victim of crime?
Lock and deadbolt external doors in your home, outbuildings and gates.
Use motion sensors and security lighting at night.
Ensure shrubs and plants are kept trimmed to allow full visibility around your property.
Visibly mark serial numbers on tools, equipment and vehicles.
Mark your property using forensic type property products such as Selecta DNA, and use appropriate signage to advertise this.
Never leave keys in vehicles, agricultural plant or other equipment.
Ensure your vehicles are locked and secure when not in use. Farm vehicles can be particular vulnerable to theft.
Keep outdoor storage areas neat and well organised so any theft will be immediately noticed.
Register your personal items of value on a free on-line database such as www.immobilise.com.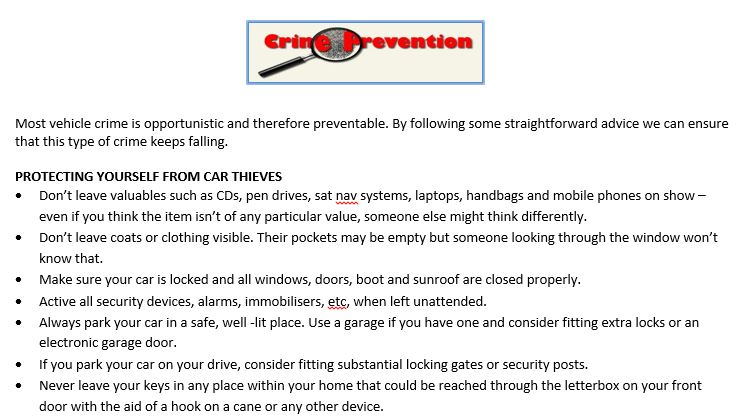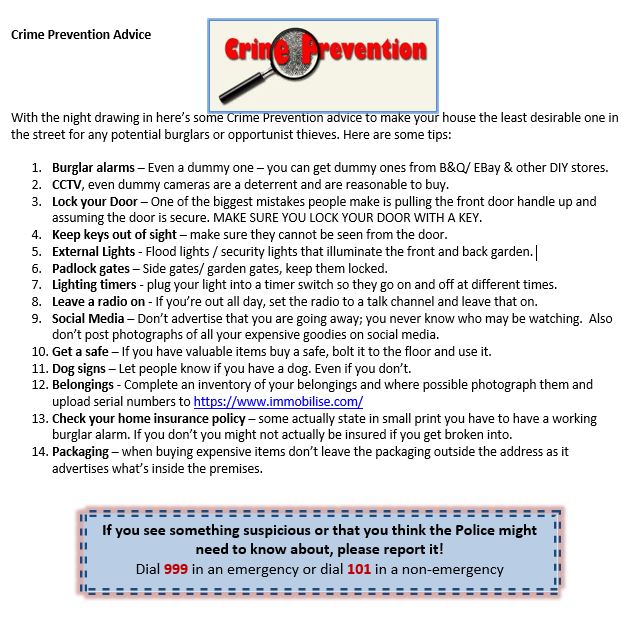 HOW SECURE IS YOU'RE SHED, GARAGE AND GARDEN
Many people take great care when securing their homes but pay little attention to the security of their sheds, garages or outbuildings that are often used to store valuable property.
Ensure your shed is in good condition and would stand up to a security test. If not, take steps to improve it or don't leave valuable items such as lawn mowers, golf clubs and bicycles inside.
Secure your shed