MAKING RURAL ROADS SAFER
Introduction
Transporting agricultural machinery from one field to another via public roads is a necessity for most farmers. Whether it involves moving produce during the harvest season or relocating heavy equipment from one field to another, the only way to do this is by road. However, due to their size and slow moving nature, this can be hazardous to both agricultural vehicles and other road users.
Each year, incidents involving tractors and other farm machinery occur on public roads which can cause costly equipment damage, injuries and deaths to all groups of road users. In past years numerous people have been injured in road collisions involving agricultural vehicles in Cheshire.
Statistics have shown the group of road users most at risk from agricultural vehicles to be motorcyclists. In past years motorcyclists have been involved in road collisions resulting in serious injuries and fatalities.
All motorists must take responsibility for ensuring their own and each other's safety were agricultural vehicles are involved.
Advice and the law — Mud on the road
Farmers are responsible for cleaning mud off the road dropped on public roads by their own vehicle and livestock.
Mud can be a significant hazard to other motorists, particularly motorcyclists, and can result in serious, even fatal collisions.
Allowing traffic past when causing a tailback
It is inevitable that slow-moving vehicles will cause a tailback on public roads but it is important for the driver tom pull over and allows traffic to pass at the earliest opportunity.
Frustrated motorists may become impatient and attempt to overtake when it is not safe. They do this at their own risk.
Lights
Lights should be kept clean and in good working order to make sure that other road users can see the intended movements of the vehicle.
Amber warning beacons
Amber warning beacons can be fitted to tractors which are not capable of exceeding 25 mph to alert other motorists to the presence of a slow moving vehicle. Under certain circumstances it may be a legal requirement.
Rural Crime
Whilst Cheshire is a very safe place to live, work and visit there are occasions when unscrupulous people commit crime which are often undertaken when a criminal sees an opportunity.
There are simple measures you can take to reduce risk of becoming a victim of crime which help to keep both you, your family and the rural community safe.
What can I do to prevent myself becoming a victim of crime?
Lock and deadbolt external doors in your home, outbuildings and gates.
Use motion sensors and security lighting at night.
Ensure shrubs and plants are kept trimmed to allow full visibility around your property.
Visibly mark serial numbers on tools, equipment and vehicles.
Mark your property using forensic type property products such as Selecta DNA, and use appropriate signage to advertise this.
Never leave keys in vehicles, agricultural plant or other equipment.
Ensure your vehicles are locked and secure when not in use. Farm vehicles can be particular vulnerable to theft.
Keep outdoor storage areas neat and well organised so any theft will be immediately noticed.
Register your personal items of value on a free on-line database such as www.immobilise.com.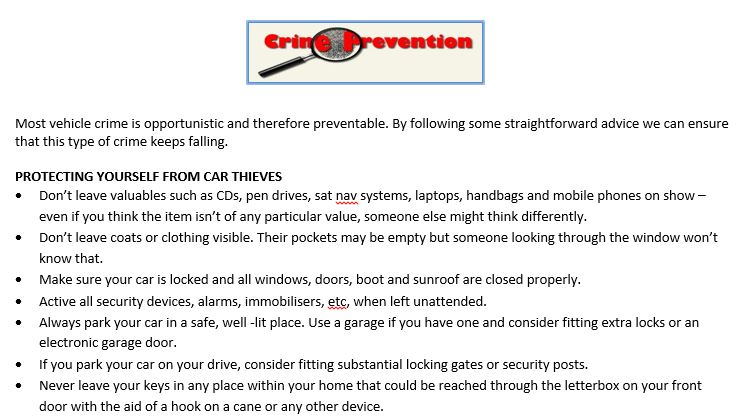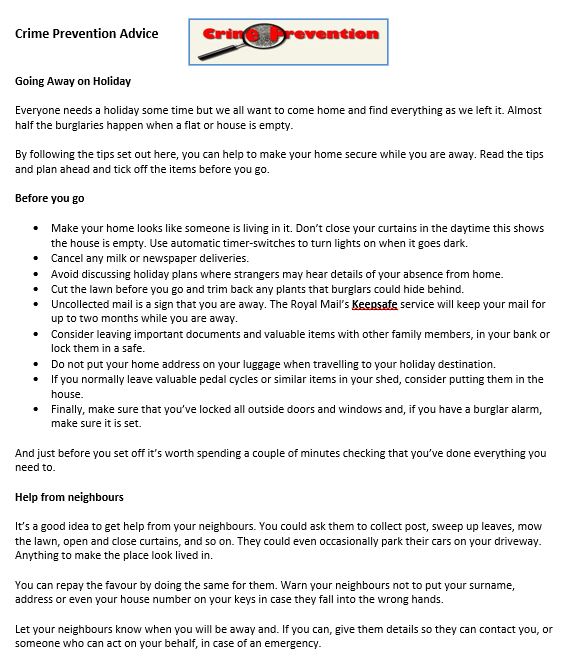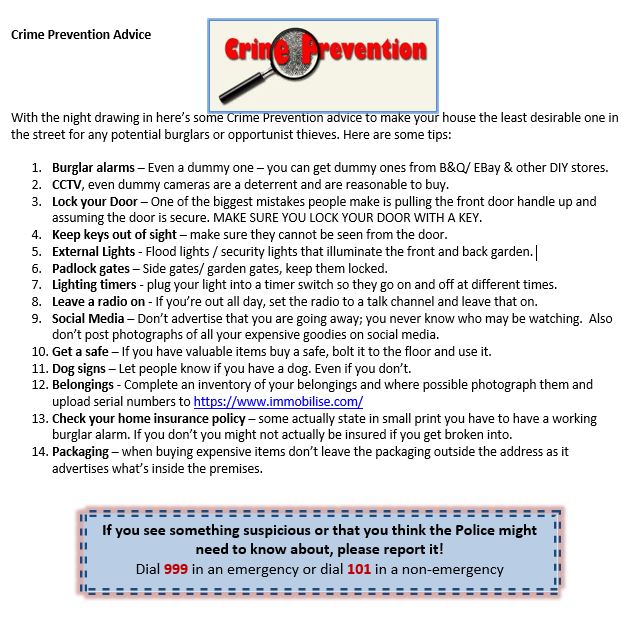 HOW SECURE IS YOU'RE SHED, GARAGE AND GARDEN
Many people take great care when securing their homes but pay little attention to the security of their sheds, garages or outbuildings that are often used to store valuable property.
Ensure your shed is in good condition and would stand up to a security test. If not, take steps to improve it or don't leave valuable items such as lawn mowers, golf clubs and bicycles inside.
Secure your shed
Use a closed shackle padlock not less than 2.5 inches in width, made of hardened steel with no less than five pins. A standard small padlock with hasp can easily be forced or cut by bolt cutters.
The fittings should be bolted through the door of the shed and reinforced at the back with a steel plate.
The hasp should have concealed screws or coach bolts fitted.
Use the lock at all times.
Protect glass by fitting a grille or strong wire mesh to the inside of the window and fit locks to any window that can be opened.
Prevent anyone seeing into your shed by placing curtains or other coverings over the window or blacken out with paint.
Make sure that you can see your shed from the house. If it is obstructed from view a thief has a better chance of breaking in without being seen.
Mark valuable items with Smart Water.

Garages
Much of the advice for garden sheds also applies to garages. In addition you should consider fitting:
A drive post on the outside of an up-and-over door. It will stop the door being opened and is a visible deterrent.
Good quality closed shackle padlocks with hasp and staple on either side of the door.
Five leaver mortise locks to connecting doors if the garage is attached to the main building. Make sure the lock comply with British Standard 3621.
Fitting a simple, low cost, battery operated shed alarm to the door of your shed or garage will warn of any attempted break into your property and act as a deterrent.
Mark valuable items with Selecta DNA.

Deterring burglars
As well as making your property secure as you can also make it difficult for a thief to get it. Here are some simple steps:
Install security lights to illuminate the front porch and/or the garden. There are two types; lights that come on automatically, when it is dark and turn themselves off when its light or lights operated by sensors that come on when movement is detected.
Keep shrubs, hedges and large plants cut back. They can provide a screen for thieves to work behind.
Keep your boundary fences, walls and gates in good condition as they provide a barrier to the would-be thief. It is recommended that fences are maintained at a height of 1.8 m at the sides and rear of the house with gates that are lockable at the same height.
Keep an eye out on your neighbour's property and encourage them to do the same for you. Report anything suspicious to the police.
Consider setting up, or becoming members of a neighbourhood watch scheme.