Some comments from the community
Objective number 3 achieved?
'Fiona and I wanted to say very well done to you and the team for putting on a great weekend of commemoration.'
'The events were thoughtful and very well put together and many people commented how much they had enjoyed the weekend.'
'The display inside the church was much more extensive than we had expected, and didgreat job of combining various organisations efforts into a compelling exhibition.'
'Makes me proud to be living in such a beautiful Village. Well done all involved x'
'Thank you for these photos. I grew up in Malpas, my dad was in the Home Guard, and also the British Legion, so moved to see St Oswald's decorated so beautifully. I live in California now.. shared these lovely photos with pride.'
'Absolutely Wonderful. A very beautiful, very moving spectacle for all present at performance of "The Armed Man" last night. Thank You..'
'Amazing...beautiful tribute to all the fallen hero's well done everyone involved.'
'The church looks beautiful ... has brought a tear to my eyes xxx'
'Well done spectacularParade !! So much effort put into this 100 year commemoration. So poignantx'
'I feel so privileged and proud to have been part of this mornings parade to commemorate 100 years since the end of World War One.The amount of time and effort the community has made to make Malpas look so beautiful and to recreate so many memories of the war is just astounding!
Thank you everyone.
Lest we forget.'
'The children's activities have been the best thing we have done since we moved to the village'
'Well done for a very successful commemoration weekend......absolutely fantastic and how lucky to have fine weather.
Armed Man performance was an excellent start to the events an then there was the brilliant 'The Way We Were' production – both very moving.
And then a parade which was absolutely great! In fact the whole weekend was amazing.'
'a well-organised and brilliant weekend'
'Well done to everyone, my boys had a great time. We love living here.'
'Congratulations to you all for pulling off a wonderful series of commemorative events.'
'A superb effort by the Committee to get all these events off the ground and running so smoothly – thank you to you all xx'
'Well done to all involved a truly wonderful and fitting tribute . Thank you all xx'
'Everybody involved has done Malpas proud'
'Thank you to everyone involved. The whole weekend was fantastic.'
'Thank you to the committee is was a tremendous weekend.'
'Thank you so much, without you, Malpas would not have shone so brightly this weekend.'
'What an incredible weekend, the Malpas community really came together to put on a fantastic performance and I am so proud and thankful that the Malpas Youth Theatres were invited to be part of it.'
'What an amazing weekend it has been. Our family has learnt so much. So many people have expressed their gratitude and I would like to extend ours too. Thank you to all the volunteers that made this weekend happen, for all your time and energy put into making this weekend such a success and a special commemoration.'
'Went to the church today with my granddaughter to see the arrangements of poppies. Fantastic display and 2yr granddaughter kept saying wow. Well done to all who made this happen. Moving and beautiful. Be proud of yourselves.'
' There aren't words enough to express what a wonderful weekend this has been. Truly memorable and a privilege to have been a part of it. Many thanks especially to you and to your committee and band of workers in the background.
Thank you so much'
'Well done, an excellent event and weekend you have masterminded.'
'You did a great job on the ww1 remembrance.
Lots of people have been talking about your amazing efforts.'
'I hope you are all really pleased with such a fantastic achievement. Your beacon lighting skills are second to none!'
'Well done, an excellent event and weekend you have masterminded.'
'You did a great job on the WW1 remembrance.
Lots of people have been talking about your amazing efforts.'
'I can only reiterate Helen's sentiments in saying that you and your committee deserve to be congratulated for a most wonderful and successful weekend and I was proud to have been involved.'
'A just reward for the many months of planning, time and hard work that went into a very appropriate commemoration.
Thanks for including me.'
Thank you for asking Alex and myself to come to Malpas to witness your event. It was a spectacular day and it is obvious that there is a vibrant community spirit amongst the villagers.'
It was also quite clear that many hours of planning and work went into making the event such a success and you are to be congratulated on it.
I found the walk through the trenches really evocative and I am sure others did too.
We hope you will pass on to your committee members our thanks and appreciation.
Thank you'
Janet Black (Lord Mayor's wife)
'Congratulations to all ona 'well-organised and brilliant weekend'.' Another very sincere thank you to you for all that you have done to make sure that our weekend was so wonderful.
Everywhere I have gone in the village today people have said just how wonderful it had been and that it brought Malpas together in a very very special way.
I feel that I want to create a booklet about the work in church for the records and we could open that to a photographic record of all the events etc. This weekend will never be forgotten and will go down in my life as one of the most special of my ministry over the past 30 years. Thank you so much. - Cannon Ian Davenport
'Lovely Church, and Ian is the best Rector Malpas has had for many years. Testament to him and his team, they make everybody feel welcome, regardless of colour or creed.
'Hope you had a great weekend, everything was superb thought the whole weekend was a really special and successful tribute, really nice to see the community get together like that.
'Just wanted to say thank you for all the hard work you put in to make it happen
'I would like to say many congratulations to Richard, Chris and everyone involved in last weekend's 100 Year Commemoration in the village.
It was something Malpas can be proud of; well organised, varied and thought provoking activities for all ages.
Thanks to all involved.
'A huge thanks to you Chris, yet again without your vision to begin with, none of this would of happened. Thank you to you and your team for all your hard work to put on such a wonderful event that will have the community talking for years to come!
'Morning Chris and Ian,
Hope you are both recovering from a brilliant weekend in Malpas. It really was such a great commemorative weekend and involved so many people. We thoroughly enjoyed the whole event.'
'Well done on the WW1 Malpas 100 years on – I thought that it was a great success – you and the team obviously put in a lot of hard work'
'I want to thank and congratulate you on the play which was such an incredible experience to be a part of.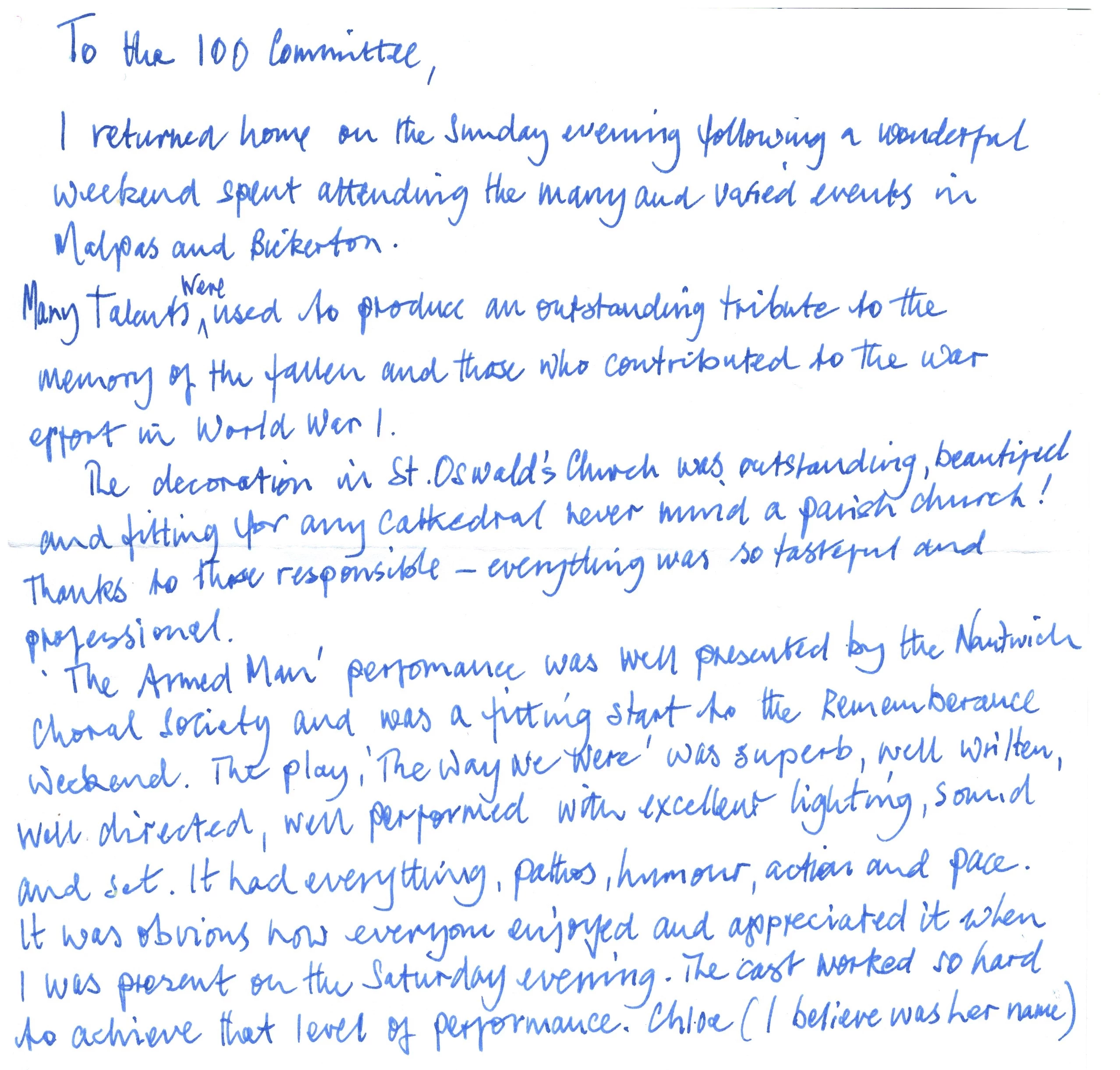 Feedback Complement 1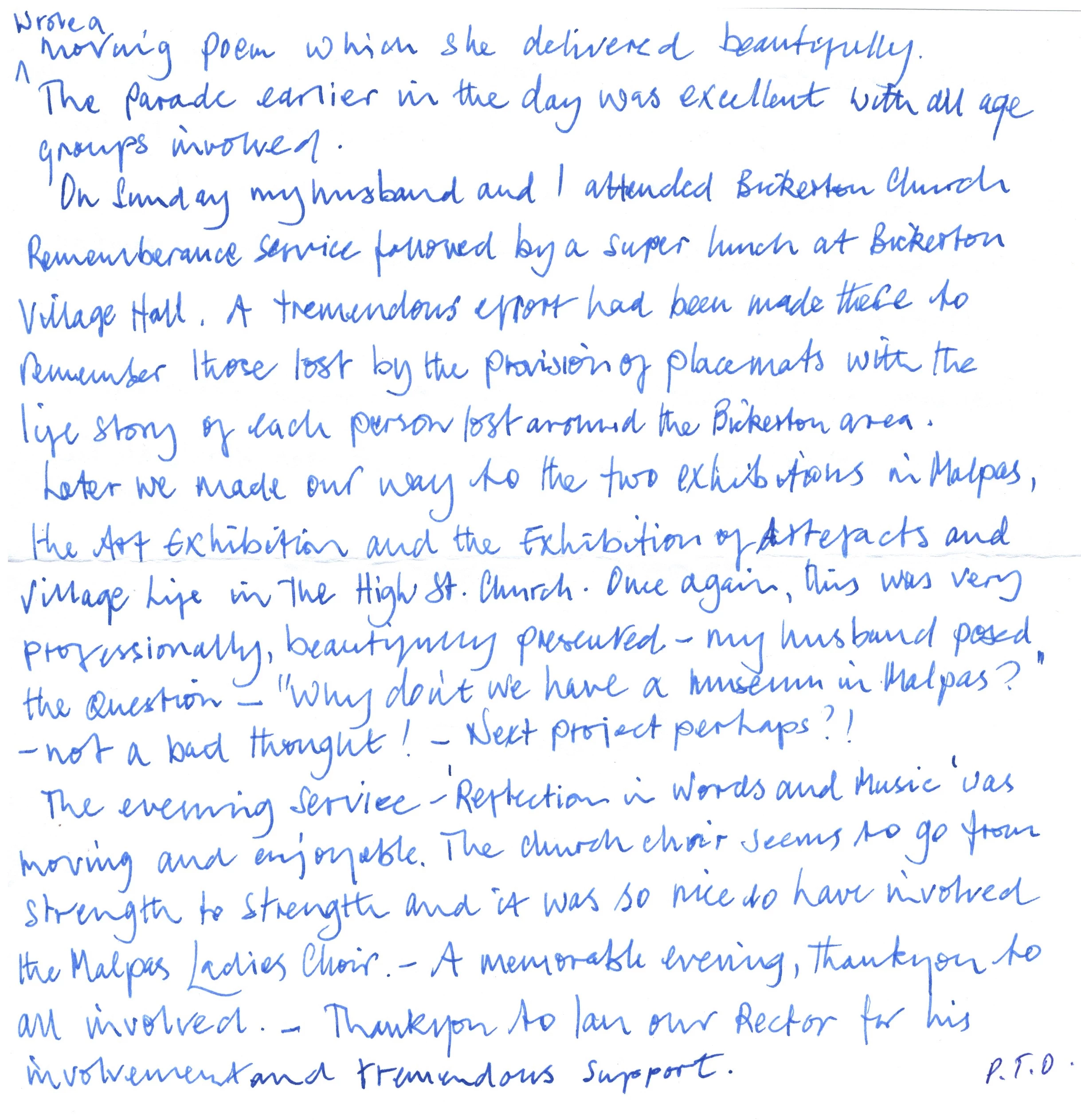 Feedback Complement 2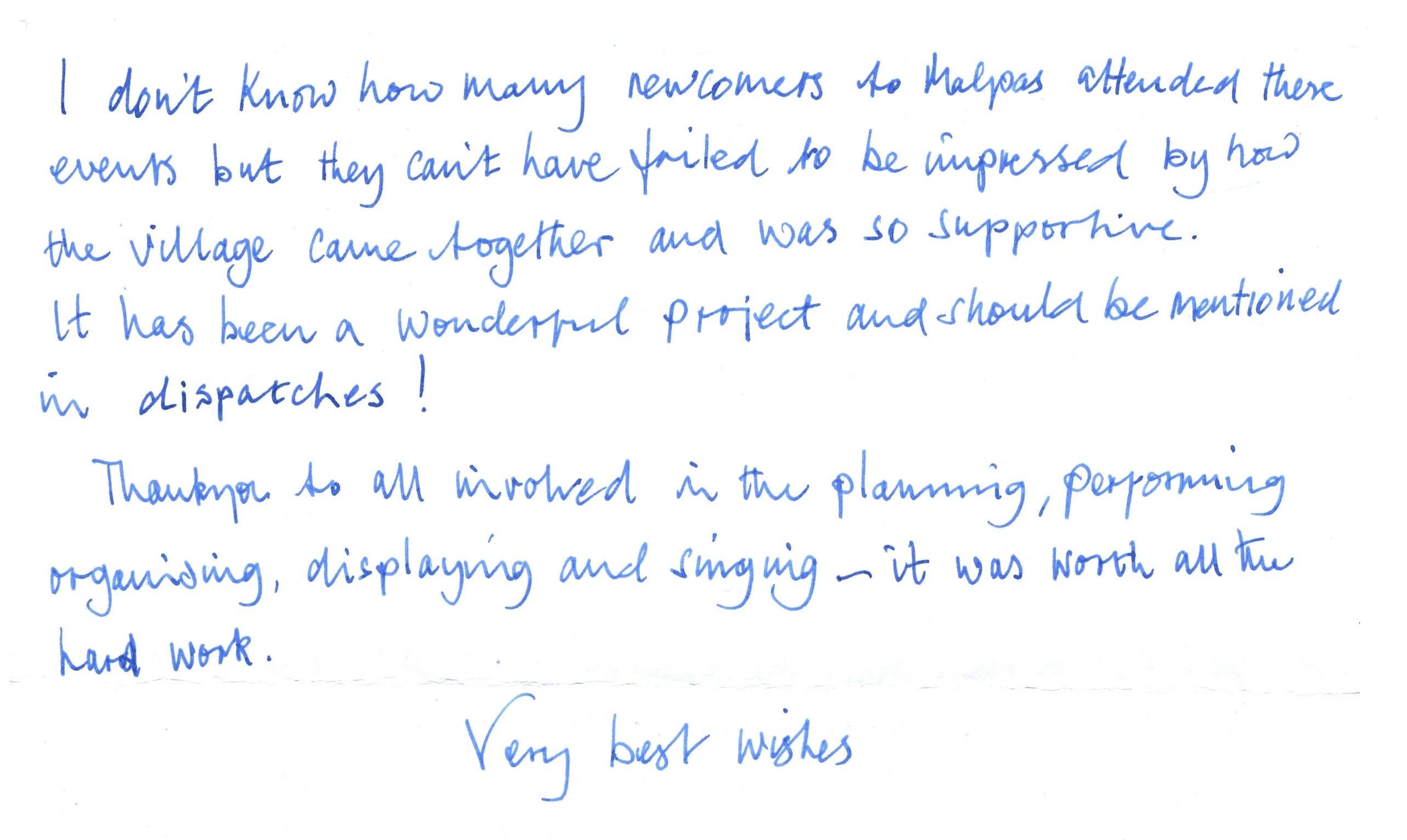 Feedback Complement 3
'We just wanted to write and say how impressed we were with the events in Malpas over the weekend.
Everything was absolutely superb and we can only guess at the hard work and long hours you and everyone else put into making it all happen.
Such wonderful and fitting tributes to those who gave their lives in such awful and tragic circumstances.
It was a privilege for us and everyone else to be part of it all.
Malpas did it in style!
Thank you.