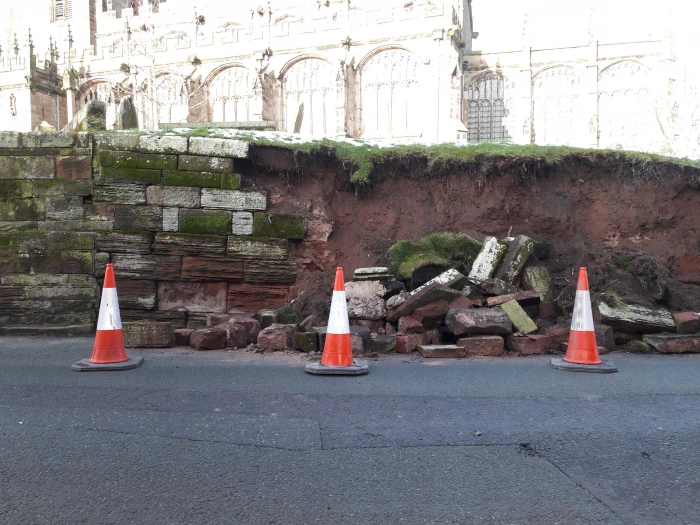 Church Street, Malpas – St Oswald's Wall Collapse
A message from Cheshire West and Chester Council Highways department

Dear Residents.
As you are aware there has been a partial collapse of St Oswald's Church wall on Church Street, Malpas that occurred last week during heavy storms.
As soon as the Council became aware, temporary traffic signals were installed on Church Street to keep traffic and pedestrians away over the complete length of the wall.
As an additional safety precaution it was decided that we remove the traffic signals and replace the traffic signals with an emergency road closure between Old Hall Street and Church Walk including advanced signs saying 'Road Ahead Closed'.
We now know that the traffic cones and signs are being moved by irresponsible individuals allowing traffic to use Church Street as a through road.
In the interest of safety, we will now provide additional traffic management in the form of red and white barriers at Parbutts Lane to the west and by the steps to the Church on Old Hall Street side to the east.
Signs will also be in place showing a suitable diversion route.
Whilst this closure is in place there will be a number of properties between The Old Printing House and number 21 that will only have access via the footway.
The Council has now commissioned a specialist structural report to be carried out which will determine the type and extent of the repair.
At present we do not know how long this will take for the wall to be fixed or when the road will be safe enough to open.
We apologise for the inconvenience this will cause and hope you will remain patient while we do everything we can to resolve this matter.