Spring of 2020 will see the opening of BeWILDerwood in Cheshire!

The Bewilderwood Cheshire logo
This multimillion-pound investment aims to encourage children and their families to enjoy traditional, imaginative and healthy outdoor play. The unique woodland adventure park is aimed at families and will be located in South Cheshire. This will be the second BeWILDerwood site in England, the other is already a successful and award-winning attraction in Norfolk, now in its 13th year of business.
BeWILDerwood is a WILD and imaginative adventure park with magical treehouses and a cast of intriguing characters, bringing a curious difference to the Norfolk Broads.
The setting for the book, 'A Boggle at BeWILDerwood' by Norfolk children's author Tom Blofeld, BeWILDerwood is a wonderful, mystical land of brave, adventurous creatures who you may never see anywhere else in our world.
This new 70-acre park expects to welcome around 300,000 visitors into the Cheshire countryside each year, and has been welcomed by local planning groups, to support the local economy and tourism; as well as a celebration of the unique mosses and meres of the woodland.
As Katrina Michel, former CEO of Marketing Cheshire noted "A critical factor in rural tourism is 'distinctiveness' and BeWILDerwood offers something genuinely different – a healthy outdoor experience for young children and families which fires the imagination and allows children to run free and enjoy nature as well as becoming involved in a compelling story."
Beautifully designed in keeping with its natural surroundings, BeWILDerwood is truly an enchanted place. Unlike other attractions there are no noisy rides, no electronics and no junk food.
Parents and grandparents are encouraged to play alongside their children and grandchildren, and whilst the Telegraph continues to rate BeWILDerwood as one of the top destinations to visit with under 16-year olds in the UK, ALL of the family can run WILD in the beautiful canopied forest. Just one of the many unique things about BeWILDerwood is that all of the activities such as face painting, storytelling, and arts & crafts can be enjoyed at no extra cost.
BeWILDerwood is all about everyone getting to experience the magic, and no one to feel excluded from any of the super fun things it has to offer.
BeWILDerwood creator and author, Tom Blofeld said "Somehow, without realising it, we made something that is probably the best in the world in its category. Of course, it's not a huge category, but it's still the best!
From the beginning, we set out to be different to "theme parks" and be a smaller, more authentic and intimate experience and as it shows in our reviews, our visitors feel a real sense of ownership of the park because they have the chance to experience real play in nature.
We continue to nurture a creative spirit which encourages children to explore and develop their own love of nature and sense of independence."
We're currently recruiting for some very exciting jobs on our wonky website. See Here for more detail
We'll be posting other seasonal jobs on there when our Boggle Builders have finished beavering away so keep an eye out!
Toodle-oo!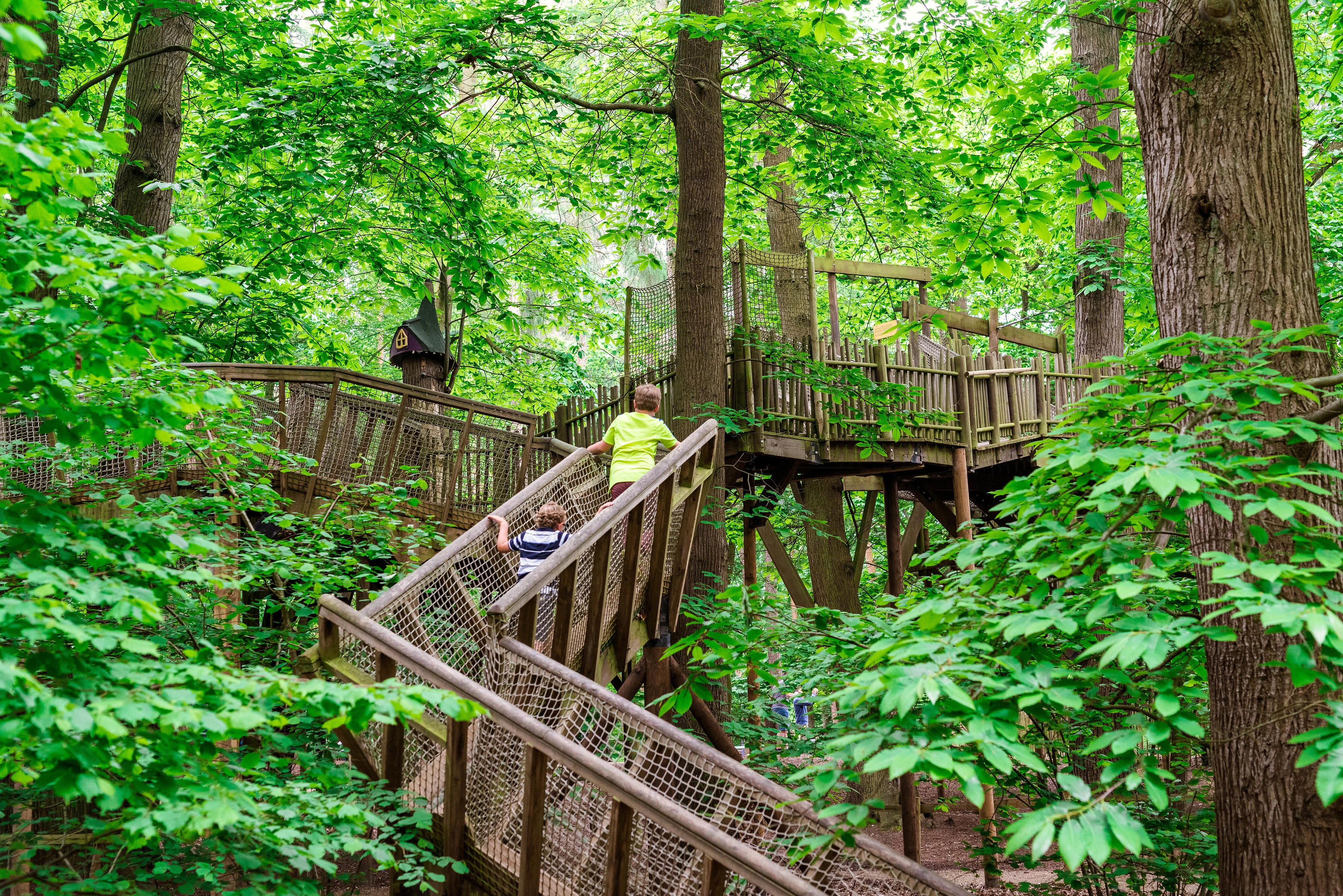 A view of the aerial walkway at Bewilderwood