The Vyrnwy Aqueduct Modernisation Programme
We are pleased to confirm that a large section of the Vyrnwy Aqueduct has now been relined within Area 01 and the first section of lining work between AP1001 and AP1007, for Line 1 of the Aqueduct, will conclude in late October – Early November.
For detail see https://uuhub.co.uk/vyrnwy/malpas-to-tarporley/
Once this first phase of lining work is complete, we'll temporarily reinstate the land until we return to carry out the final lining phase of our work, which we expect will begin from summer 2024 and we'll be back in touch to keep you updated on this work.
In preparation for commencing our upcoming section of work from AP1009 onwards, we are planning to hold a drop in session on Thursday 5th October at Bickerton Village Hall, SY14 8AU, between 2:30 and 5:45pm, which will be an opportunity for local residents and stakeholders to come along and speak to members of the project team directly to ask any questions, provide valuable feedback on our works within Area 01 and/or obtain a further project updates on the upcoming work
More Information on the dates and venues for this drop in session can be found on the poster (attached) and we would encourage this information to be shared within your local community, council and with local stakeholders.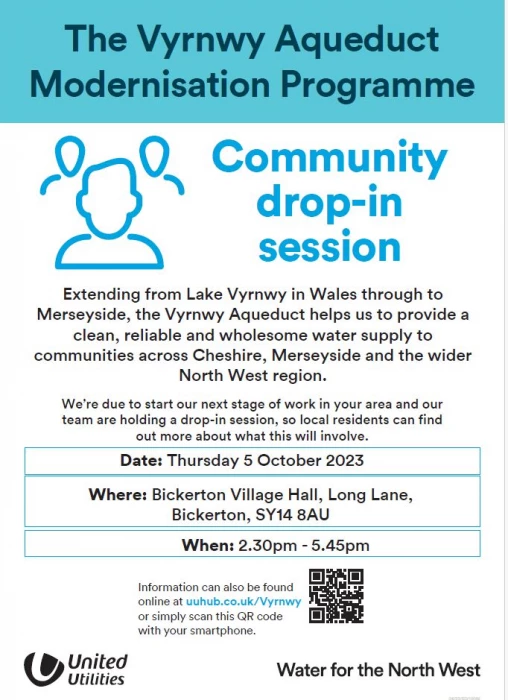 Should you be unable to make the session, the latest information on can be found online at: https://uuhub.co.uk/vyrnwy/
In addition we are also in the process of creating a 'live updates' page which will provide further information on planned road works, project timescales and other works within each specific area and we hope that this page will be made available shortly.
In the meantime, should you require hard copies of our latest online material, this can be requested from feedback@consultation-online.co.uk or by calling 0800 298 7040 and we'll arrange for a pack to be posted out which will also include a feedback form and freepost envelope.

Next Steps
We want to ensure that as a project we are continuously providing the most up to date information on our works and from September onwards, we will be providing monthly updates via email to all local stakeholders which will provide more information on our latest progress, programme and upcoming works in each area. In addition to this, we'll continue to keep you up to date and you can expect to see various social media and press releases as our works progress.
If you have any immediate questions, please don't hesitate to get in touch by emailing the team at: UU.VAMPStakeholderRelations@uuplc.co.uk and we'll be happy to help.
Harry Caton
Assistant Project Coordinator
Network and Capital Delivery
unitedutilities.com