Malpas Town Band and Friendly Societies
Malpas Rose Club had a parade on their 77th anniversary in June 1901, it included returning heroes from the boar war.
The Rose Club met in The Red Lion and was one of two Friendly Societies in Malpas, the other being The Oddfellows, which is still an active organisation today.
Both of them had an annual festival which consisted of a parade that marched through the Town carrying their banner and led by the Malpas Town Band.
The parade went to the Castle Hill where a feast was held followed by dancing.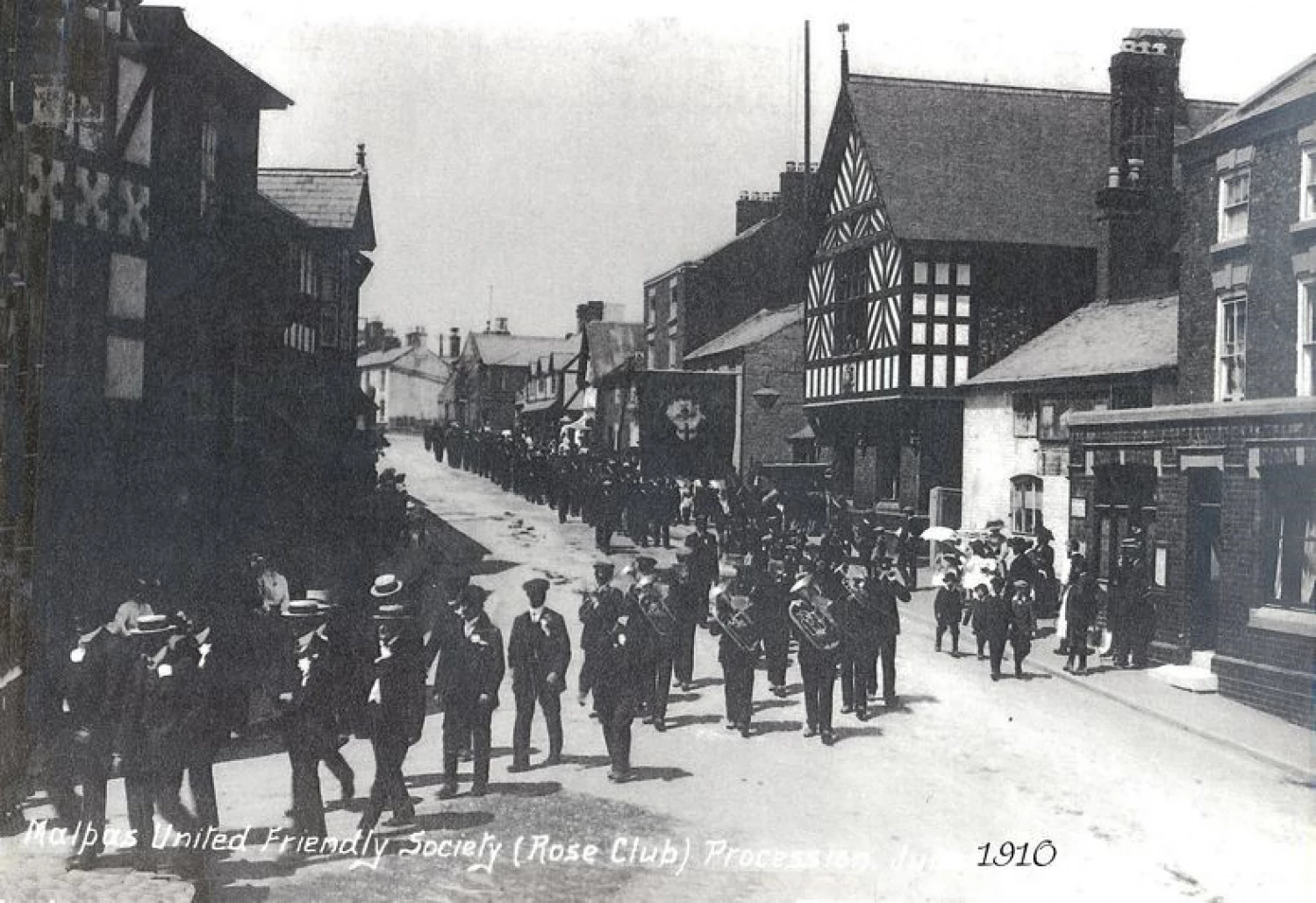 Malpas United Friendly Society (Rose Club) procession in 1910
Malpas United Friendly Society (Rose Club) accompanied by Malpas Town Band marching to their Annual "Feast" held on the Castle Hill followed by dancing on The Castle Hill.
.
Malpas Town Band
It was in 1919 that the Malpas Town Band was founded by the late Mr Arthur Hughes (of A.M. Hughes Egg Packing Station) and Mr William Allman, of Wrexham Road. The original band had a line-up of 23 players, as follows:
CORNETS: Mr Stanley Allman, Mr Jack Ankers, Mr Godfrey Evans, Mr Fred Ince, Mr Frank Hewitt, Mr Leslie Hughes (son of Arthur Hughes), Percy Rogers
FLUGEL HORN: Mr Ted Lawrence
TENOR HORNS: Mr Stan Fletcher, Mr Eddie Edge, George Chesworth jr.
TROMBONES: Mr Eric Challinor, Mr Lew Hewitt, Mr Fred Turtle
EUPHONIUMS: Mr Arthur Lawrence, Mr Harry Worth, Mr George Harrison
BASSES: Mr Jack Allman, Mr Frank Allman, Mr William Allman, Mr William Chesworth
SIDE DRUM:Mr Jackie Allman (Well Street)
BASS DRUM: Mr Bill Davies (Wrexham Road), known as 'Levey'
Practices were held in the upstairs schoolroom at the Congregational (now Malpas Community Church) Church, where the band was conducted by Mr Tom Williams, with Ted Lawrence as his deputy.
Tom Williams was a Master Builder from Whitchurch.
Each player paid an annual subscription of £1.00 and 6d practice money weekly.
The late Mr Fred Turtle was Treasurer and the practice money was collected by Mr George Boughey, of Church Street.
Secretary was the late Mr Tom Mercer.
The Band's first engagement was for the Malpas Tontine, providing music for dancing on the Castle Hill in the evening.
From then on engagements included various local Wakes (Malpas, Tilston, Bickerton) as well as Tontine (Hampton, Malpas) and Oddfellows celebrations up until the second World War.
The Tontines and Oddfellows were Friendly Societies, of which, the Loyal Clutton Lodge of Oddfellows still flourishes in Malpas ( see Malpas History No. 3 )
For the first two and a half years the Band played in civilian clothes and then in 1922 Arthur Hughes brought in four tailors from Liverpool to meet the members in the Schoolroom to be measured for uniforms, which were ready within one month.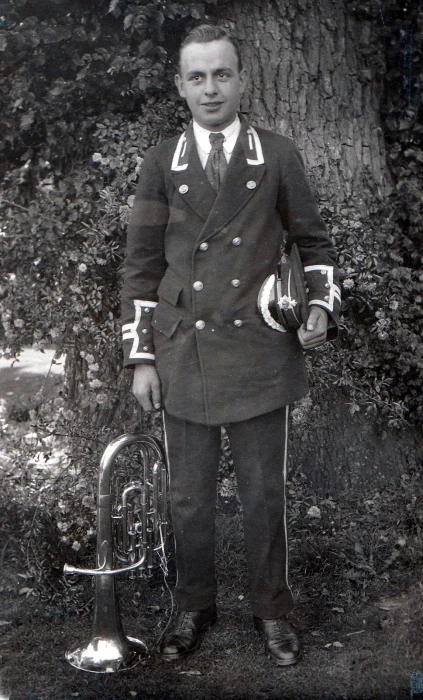 George Harrison in Malpas Town Band uniform
That really is one very well turned out bandsman.
In the 1930s, the circus was visiting Malpas was causing great excitement.
However, trouble was afoot when their musicians refused to play.
Coming along to save the day as well as the Circus show with prancing horses, parading animals and clowns was Malpas Town Silver Band.
When the performance started, all was not well.
The Band may have learned the music, but coordinating it with the performance was a totally different matter.
The two just didn't combine, and it apparently descended into farce.
The audience roared with laughter so it ended up as a good evening's entertainment anyway.
Let's hear it for Malpas Town Silver Band!
Later members of the Band were:
Mr Wallace Roberts, Mr Arthur Hewitt, Mr Jim Watson, Mr Jack Andrew, Mr Frank Jones (OathillS), Mr Frank Powell, Mr Reg Pearson.
Juniors in the mid-1930s were: Mr Sammy Fox, the late ex-Squadron Leader William Hamson, Mr Jimmy Leonard, Mr Joe Hewitt.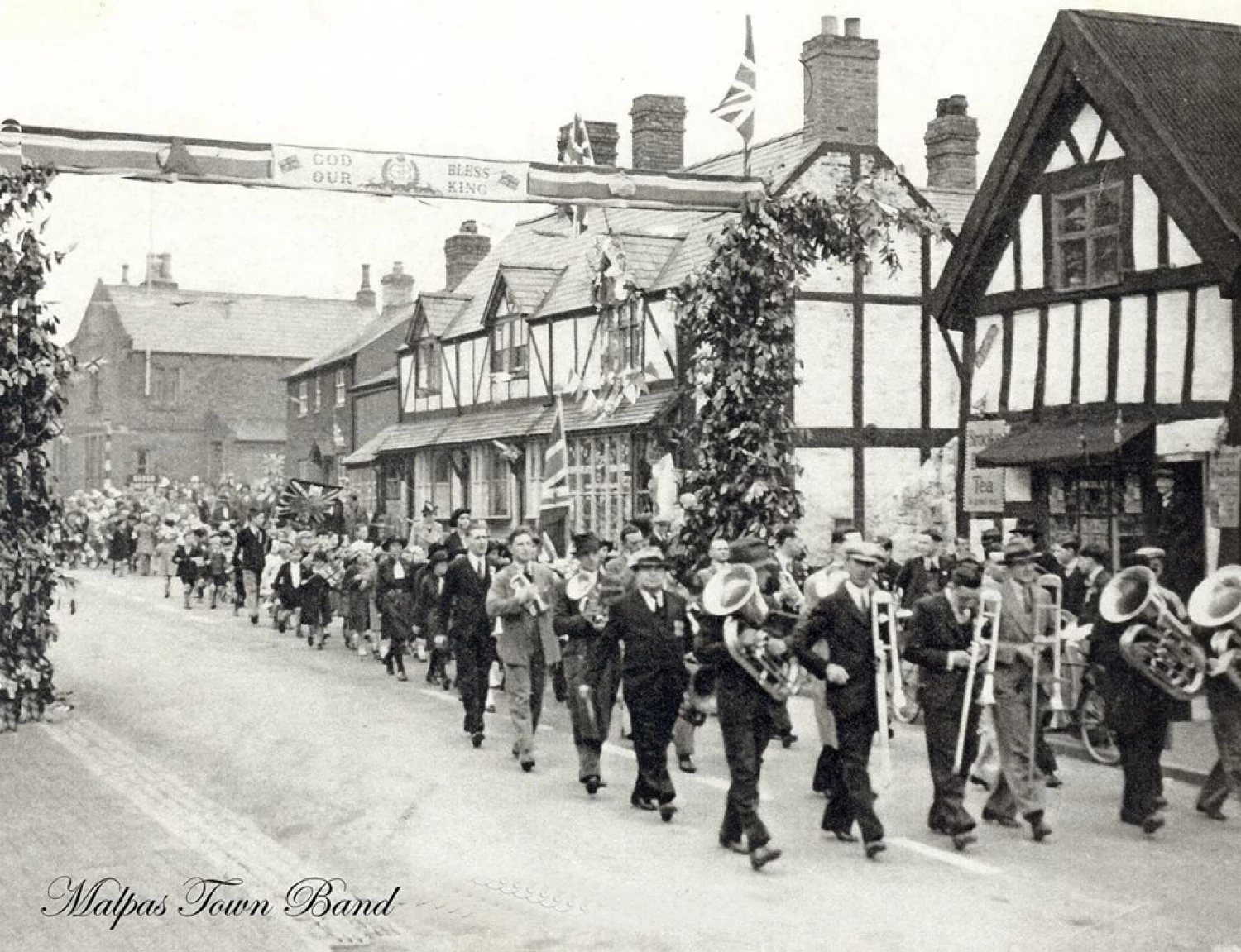 Malpas Town Band leading the 1936 Coronation procession down High Street
During its lifetime the Band took part in many competitions, including those at Llangollen and the annual National Brass Band Contests at Belle vie in Manchester:
For the last few years of its existence practices were held in the Wesleyan Chapel in Old Hall Street (demolished in 1985 – see Malpas History No.4, page 15 ).
Mr Stanley Allman, who provided the information for this article, was aged thirteen when he became a member of the Malpas Town Band in 1919.
Further memories of the Band would be welcomed, together with any photographs, press cuttings, etc. connected with the Band's activities.
The original Band ceased to function around 1940, thus bringing to a close a chapter in Malpas musical history which had spanned the period between the two World Wars