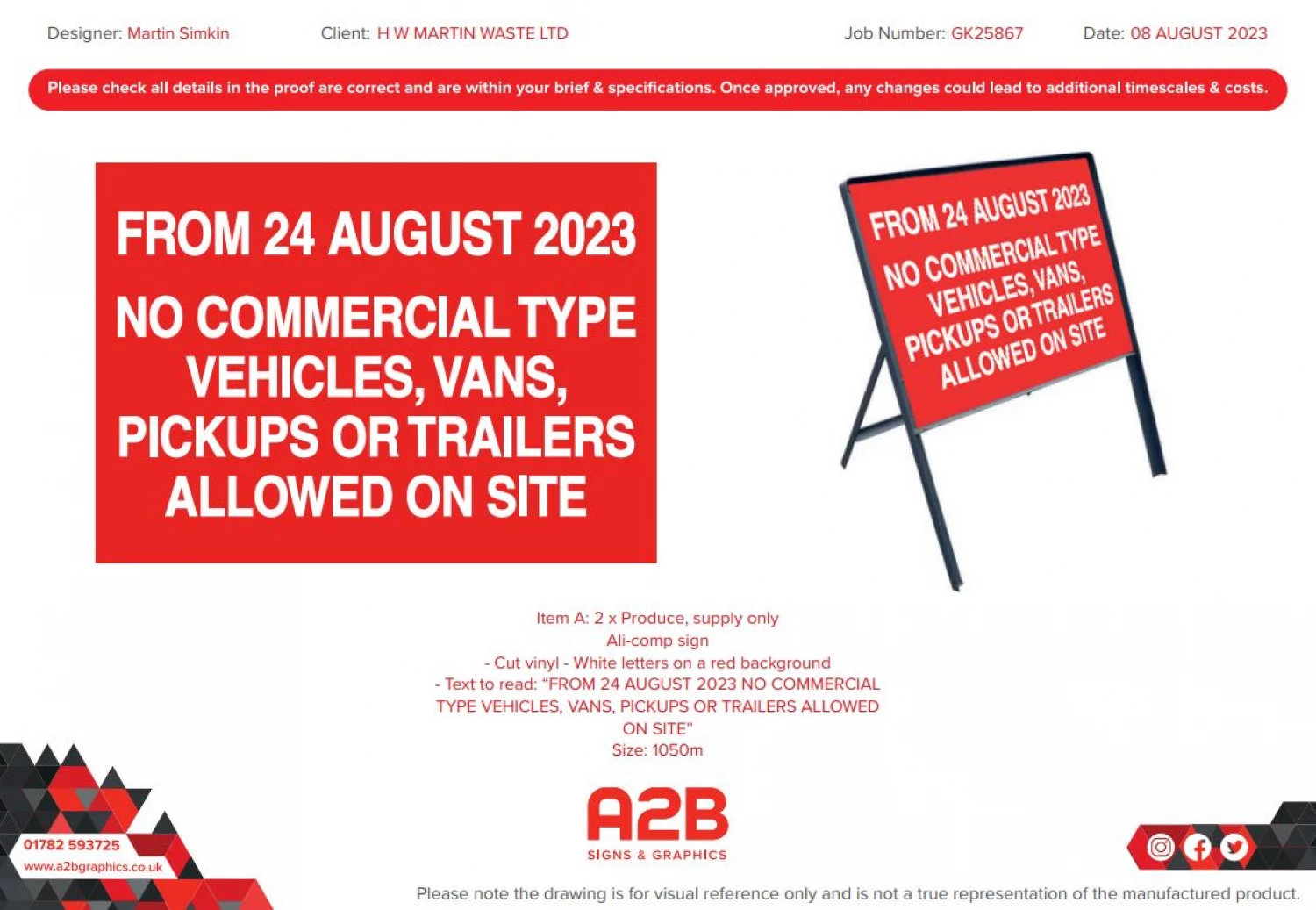 Changes to Tattenhall Waste Recyling Centre
Following a visit by the Health and Safety Executive (HSE), advice has been received on changes that need to be made to Tattenhall Household Waste Recycling Centre (HWRC) to improve safety for the public and staff.
Whilst no accidents have occurred, Cheshire West and Chester Council and H W Martin (as the site contractors) have a duty under the Health and Safety at Work act to reduce the potential of any incidents. Changes will be made to the vehicle/pedestrian segregation where customer reversing will not be allowed due to the space on the site
What is happening

The following changes will be made:
A new one way-system which will not allow vehicles to reverse.
A new lane and parking area with line markings and supporting signage to make site users aware of the new traffic management system – this will have the ability for at least two cars to queue safely within the site boundary and off the main road.
A central reservation with barriers and marked pedestrian walkway for staff to move between the customer and staff only areas safely.
A pedestrian route marked from the entrance to the businesses that does not cross the vehicle lanes.
Only two cars will be able to unload at the same time, to limit congestion.
Due to the turning circles on the one-way system, impeded due to the narrow site, we will no longer be able to accept any vehicle over 5m in length or any vehicles with trailers.
Due to the need to restrict unloading times and prevent congestion, it is important to restrict large loads. Therefore, car-derived vans and all commercial vehicles(including pick-up trucks) will no longer be able to use this site and will instead be directed to sites at Winsford, Chester or Ellesmere Port.
Tattenhall HWRC can still accept converted camper van or converted mobility vehicles under 5m in length.
HWRC customers will not be able to use the left-hand side of the site so the range of items we will be able to accept will reduce. We will no longer be able to accept TVs, monitors, fridges and freezers, large bulky household items including those for re-use(except electrical items), rubble (including tiles, bricks, concrete posts, ceramic units), cardboard, chemicals, car batteries and fluorescent tubes.
Metal/domestic appliances and textile containers will be relocated to the right-hand side of the site.
When it is happening
The changes will be made while the site is closed as usual on 22 and 23 August and will be in place for when the site opens on 24 August 2023.
For further information, contact: Mark Brazil, Head of Environmental Service
Email: mark.brazil@cheshirewestandchester.gov.uk
Responsible Committee, Cabinet Member: Cllr Karen Shore, Cabinet Member for Environment, Transport & Highways
Date: 16 August 20