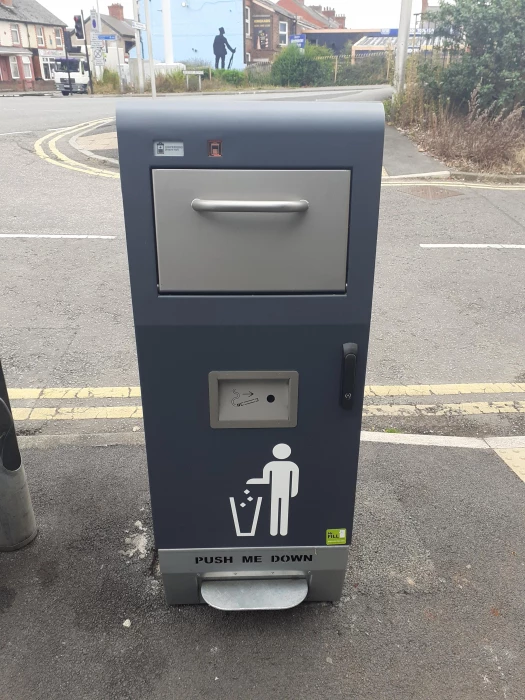 Council installs solar-powered bins for cleaner streets
Ellesmere Port is the latest area to benefit from new solar-powered litter bins with increased capacity meaning less bins are needed on the streets.
Cheshire West and Chester Council has installed 19 new solar-powered litter bins in the town centre.
The new litter bins, use solar energy to compact the waste inside, providing five times the capacity of a standard litter bin.
Councillor Karen Shore, the Council's Deputy Leader and Cabinet Member for Environment, Highways and Strategic Transport, said: "We've been able to remove old bins and create more space on the pavements in the town centre boosting accessibility, without losing any capacity.
"These clever bins let our teams know when they need to be emptied, cutting down the time spent on bin emptying rounds, so they can now carry out other duties in the area.
Avoiding unnecessary bin emptying journeys also benefits the environment and our Climate Emergency activities.
"This project ties in closely with our Waste Strategy and our aims to deliver an efficient and cost-effective waste management service and tackle the climate emergency.
Good quality litter bins in our communities make it easy for residents to dispose of their rubbish, helping to keep our streets clean and tidy."
The 19 new bins have replaced 39 standard bins with no lack of capacity, the Council worked with local ward members and key stakeholders locally to agree the locations for the new bins.
Earlier this year the Council announced it was one of the first, if not the first, to use QR codes on bins to allow residents to check when a bin is due to be emptied by StreetCare teams.
The Council is looking to increase the number of compacter bins in the borough following the installation of 17 new bins in other parts of the borough and will keep up to date with smart bin technology to spot further opportunities.