Healthwatch Cheshire are coming to a town, village or location near you.
From Malpas to Poynton, from Neston to Alsager, we will be taking a Healthwatch van and engagement stands across Cheshire over a 9-week period, from 20 September to 19 November 2021, to hear about your health and wellbeing, your views and experiences of health and care, and to share key information about health and care services, as part of Healthwatch Across Cheshire.
Every comment we receive is fed back anonymously to health and care providers and commissioners, so popping along to talk to us is your chance to make sure that those who make decisions about health and care locally know what matters to you.
We will also be joined by people from local health and care services, and voluntary and community groups, so you can find out the latest information about what is going on in your area and receive tips and advice for self-care.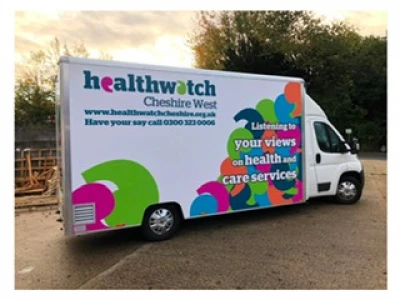 You can come along to talk to us at any of the locations listed on our schedule page.
We will continue to add dates and locations so please, do keep checking back to see when we are near you:
You can also support our campaign on social media, by using our Facebook and Twitter handles: @HealthwatchCE and @HealthwatchCW, and by using the hashtag #HealthwatchAcrossCheshire.
Anybody who lives or receives health or care services in Cheshire East and Cheshire West and Chester can also leave their comments on our Feedback centre at www.healthwatchcheshireeast.org.uk orwww.healthwatchcwac.org.uk,

call us on 0300 323 0006, or email info@healthwatchcheshire.org.uk.