How the UK will celebrate King Charles's coronation
From sheep races to fun runs, there is plenty going on.
Preparations for the coronation celebrations continue in Malpas
As she was organising her village's Platinum Jubilee celebrations last year in Malpas, Cheshire, Rachael Reeves received a call.
Would the committee be interested in a replica of the Gold State Coach for their parade?
A man living nearby had recently bought the carriage "on a whim" at an auction for his daughter. Research revealed it had been built in 1953 by a cinema owner in Rhosneigr, Anglesey, as part of a national coronation competition and had been wheeled through the streets to welcome Elizabeth II as she stepped onto the throne.
Since that momentous day it had largely sat gathering dust.
Liane and Rachael decorating the Gold Coach
A fresh lick of golden paint and it was parade-ready. "People were astounded at the quality of it," said Reeves. "We had a young girl dressed as the Queen and someone as Winston Churchill riding around in it, it was absolutely fantastic."
The coronation coach will find an even fitter purpose this spring as it is once more rolled through Malpas to welcome the new king.
Carrying local Charles and Camilla lookalikes, the carriage will be tailed by residents of the Cheshire village dressed as leeks and daffodils in celebration of the monarch's status as the longest-serving Prince of Wales.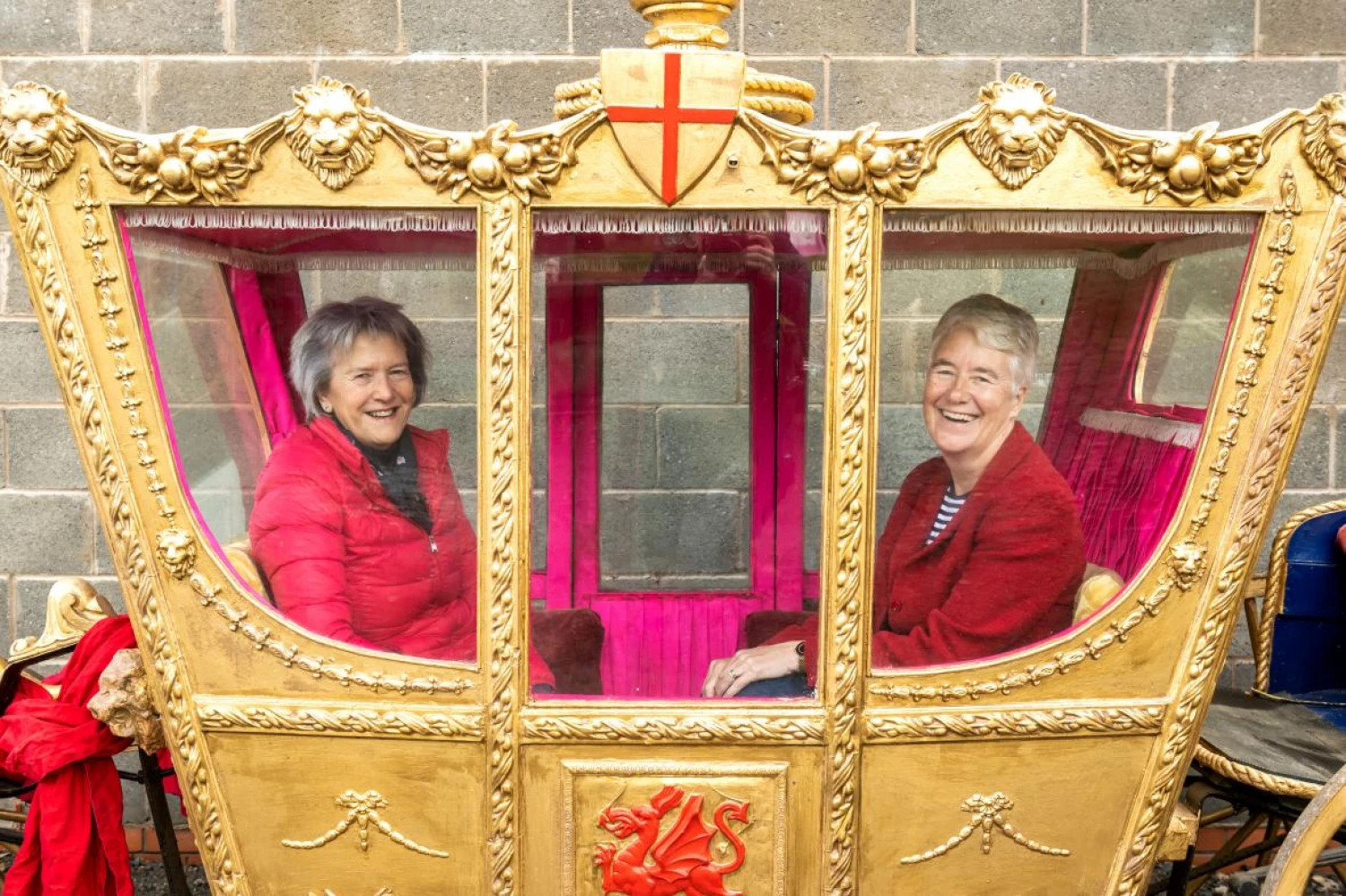 Rachael and Liane checking the coach for comfort
Malpas, Cheshire
In an effort to top last year's festivities, the Malpas team has been planning their four-day coronation party since November.
Alongside the parade, a fun run, flower show, choral performance, raffle, treasure hunt and country fair are on the agenda.
Liane Smith, also from the organising committee, said: "There's a real sense that in King Charles there is somebody who is a champion for the countryside, so we wanted to focus on that.
We've got Morris dancing and a dog show, plus someone is bringing their sheep along for a sheep race."