THE LION ENJOYS SUCCESSFUL LAUNCH NIGHT
The Lion at Malpas formerly the Red Lion has undergone extensive restoration and extension -- making it one of the most hospitable places to dine and drink in Cheshire.
As well as multiple dining and drinking rooms, some of which are dog-friendly, the pub also has 16 B&B rooms, as well as a large entertaining suite.
This can currently host family and business functions in accordance with the current Covid-19 guidelines.
Those who attended the private launch included a number of prominent Malpas residents, including the Rector of Malpas and Miles Clarke who pulled the first pint alongside Bear Inns Director, Woody Barlow and Si & Crissy Lees-Jones.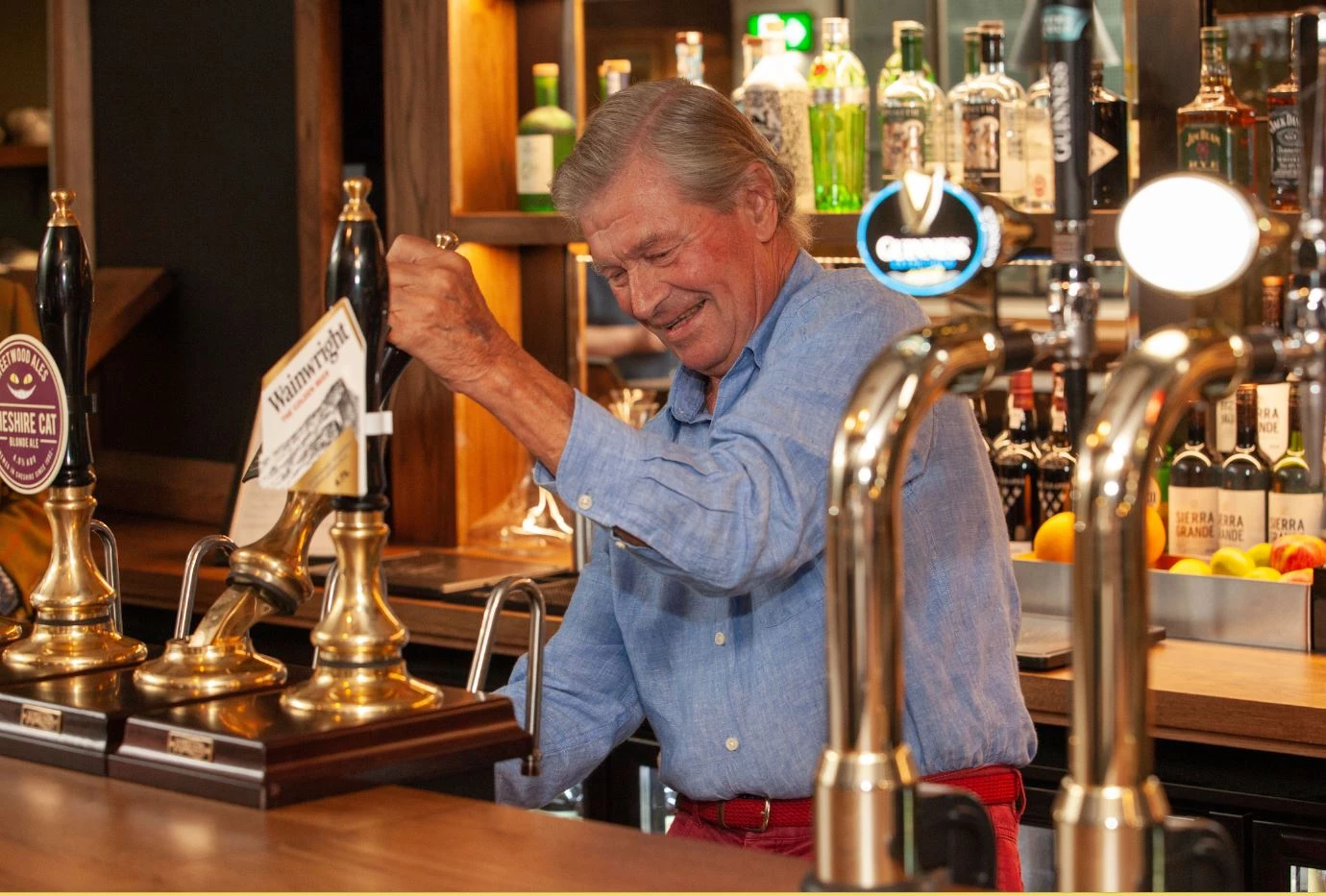 Miles Clark pulls the first pint

The site dates back to 16th Century and has always provided food and drink to locals and visitors.
Set to be a featured asset to the Malpas community, The Lion has also been chosen as the most appropriate place to display the famous local chair that King James I reportedly sat down on during a visit.
Owned by the residents, it is now proudly displayed near the bar area.
In line with Covid-19 safety measures, The Lion will be implementing a number of procedures in line with its opening.
This will include acknowledging the rule of 6 guidelines when handling table bookings, sanitisation points, single use menus, limits on room capacity, track and trace and table bookings being essential for both food and drinks.
Woody Barlow, Director of Bear Inns, operators of The Lion at Malpas says "The launch of The Lion was a great success and one that was many months in the making."
Bethan Rose-Bailey, General Manager of The Lion at Malpas adds: "We are now looking forward to welcoming customers to our pub and will be certain to provide them with a warm and welcoming atmosphere, with great food and drinks, as well as a place where they'll also feel safe and secure too."
The Lion at Malpas is now open 11:30am to 11:00pm Tuesday-Saturday, and 11:30am to 10:00pm Sunday.
Bookings can be made by calling 01948 807 070 or visiting the website: https://thelionatmalpas.co.uk/ https://thelionatmalpas.co.uk/.
The rooms will be available for booking from 23rd September.