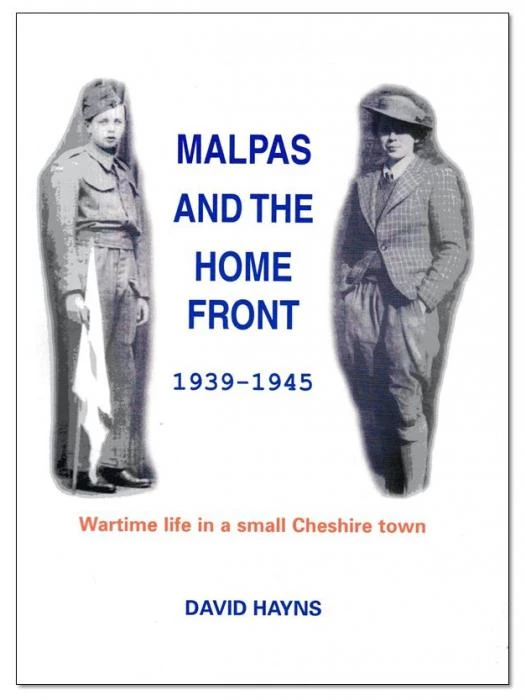 RE-ISSUE OF BOOK ABOUT MALPAS IN THE SECOND WORLD WAR
To mark the 80th anniversary of the start of the second World War, on 3rd September 1939, David Hayns has re-issued a book published originally in 2005.
The book includes the memories of many who lived or worked in Malpas during the war years, many of whom have sadly died since they were interviewed by the author.
The book, entitled 'Malpas and the Home Front 1939-1945 : Wartime life in a small Cheshire town', is on sale for £5.00 at Nisa Local (Malpas Post Office) and BookShrop in Green End, Whitchurch.
It is also available by post (remittance payable to David Hayns) at £6.50 including postage from Stoke Cottage, Church Street, Malpas, Cheshire SY14 8PD (Tel: 01948 860486).
The A4 paperback book has 58 pages and features 40 black and white photographs.
It embraces a variety of themes including: social life during the war; the Liverpool and London evacuees; wartime farming,
including the contribution made by the Women's Land Army, and German and Italian prisoners-of-war;
the effects on the local area of enemy aircraft passing over Malpas on their way to bomb Merseyside;
the Women's Institute Fruit Preservation Centre;
church, chapel and school life;
local events to support the national war effort;
the Home Guard;
the presence of Poles, Czechs and Americans on the streets of Malpas;
stories of some of the Malpas men on active service;
and an 'epilogue' giving the backgrounds of the nineteen men who died and whose names are recorded on the Malpas War Memorial.
Chris Whitehurst
21st August 2019