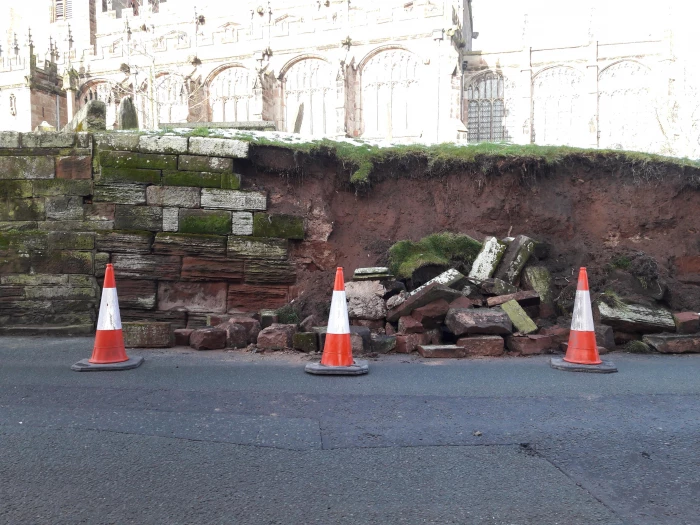 St Oswald's Church Wall update
Cheshire West Council gives further update on wall collapse at St Oswald's, Malpas

Following the collapse of a section of the church wall in Malpas, the Council commissioned temporary works to make the wall safe.
These works have been completed and the next stage of the project – to permanently repair the wall – is well underway.

The construction designs for the permanent repair have been developed by structural engineers. The Listed Building Consent required for the repair works has now been issued by the Planning Authority.

In addition, the Church of England has recently granted the formal, legal permission to allow the permanent repair works to be carried out.

Now that these permissions have been granted the task of appointing a suitable contractor to undertake the repairs can begin.

It is anticipated that the works will, as advised previously, be complete by autumn 2022.
This is subject to there being no unexpected disruptions to the planned works.

There will be a requirement for a closure to be in place on Church Street, for the safety of both the public and the workforce carrying out the repairs.
The closure will be carried out under a 'Temporary Traffic Regulation Order'.

Details of the closure will be published on the Public Notices page of the Council website before it takes place.
Road signs will also be put out on site at least a week before the works start.

The Council recognises the inconvenience that a road closure can cause and the Highways team has been working with the Parish Council to help minimise the impact the closure will have.

Councillor Karen Shore, The Council's Deputy Leader and Cabinet Member for Environment, Highways and Strategic Transport, said: "We are grateful for the support and patience of local residents and businesses throughout this project.
We appreciate that the situation at St Oswald's is inconvenient.
The project is progressing well and we will continue to do all we can to ensure these works are carried out as quickly as possible."