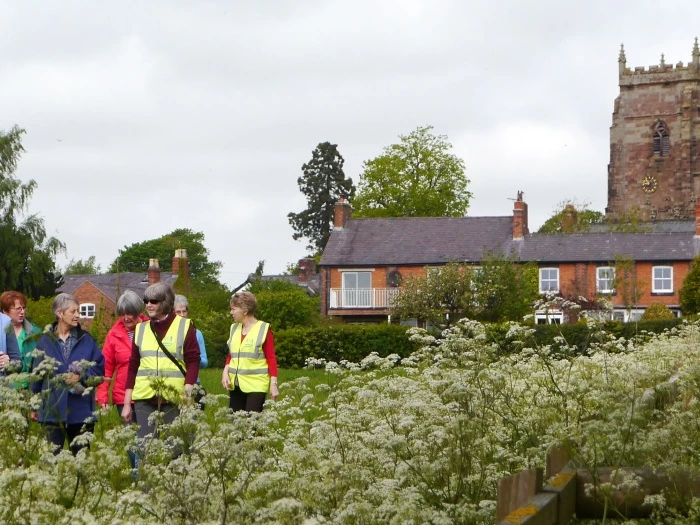 Malpas Walking for Health Wellbeing Walks
A good walk is so much more than just stretching your legs. It's a chance to unwind, meet new people and discover nature on your doorstep.
Malpas Walking for Health Scheme started in April 2014, offers a simple and free way to get out into the fresh air, be more active and meet other people in a friendly and supportive group.
The present scheme, supported by Cheshire West and Chester Borough Council in partnership with The Ramblers, covers walks in Malpas.
The walks which take place on Tuesday's and Thursday's are led by a team of local enthusiastic volunteer walk leaders.
Walk times vary witha shorter walk (approx. 45mins) on the 2nd and 4th Tuesday and a longer walk (approx. 60/80mins) on the 1st and 3rd Thursday of each month.
All walks start from the Malpas Community Church, High Street, Malpas at 10:15 am.
There are always options to do shorter routes depending upon individual abilities at each session.
We finish our walks at the Community Church with hot drinks, biscuits and a lively chat.
If you are interested, do join us on one of the walks detailed below.
.
Dates for 2023
Thursday 7th September – Tuesday 12th September
Thursday 21st September – Tuesday 26th September
Thursday 5th October – Tuesday 10th October
Thursday 19th October – Tuesday 24th October
Thursday 2nd November – Tuesday 7th November
Thursday 16th November – Tuesday 21st November
Thursday 7th December Tuesday 12th Christmas Meal

We are always on the lookout for extra volunteer leaders to join our ranks.
If you enjoy walking and are willing to help provide a supporting role for others to enjoy time in the fresh air please get in touch.
For more information please contact:
Wendy Gilpin: 01829 250413 or Margaret Miles: 01948 860702
.
This is what some of our walkers like about our walks apart from: 'coffee ,tea and biscuits!'
'I enjoy the fellowship, meeting old and new friends and visiting my old haunts'.
Joan

'Fresh air; open spaces, the conversations between different friends and meeting new walkers'.
Jan
'I enjoy the walking and meeting the people in the group and socializing in the countryside'.
Frank

'92,93,97'
Walking for Health!
Joan, John and Albert

'As somebody who does not see too well, I'd like to thank you for the care that is taken to ensure that I am alright. The company and the get together afterwards is important too'
Patricia

'The supervision of the walk leaders is always very diligent which makes me feel safer'
John
'How lucky we are to be able to take in the beautiful view and nature on our walks'
Janis
'Having recently moved to Malpas I have discovered new places to walk and met fantastic people'
Bill