OPAL Services
Our aim is to enrich the lives of older people and carers living in areas of rural West Cheshire by enabling them to socialise more.
We run three main services which all support independence, social engagement, enjoyment and a sense of well being and belonging.
OPAL Clubs
Our OPAL Clubs are social clubs for older people who are finding it more difficult to take part in social activities in their community.
The clubs provide companionship, the opportunity to share a meal with others, a range of interesting activities, as well as plenty of laughter. Transport can also be arranged.
The Malpas OPAL Club meets on Tuesdays and Thursdays. For further information contact: Brenda Platt ☎ 07851 104210
See pictures of the Malpas OPAL Club in action here
OPAL Clubs also meet in:
Frodsham, Helsby and Kelsall — contact: Zoe Blocksidge ☎ 07562 619275
Tarporley — contact: Carol Hitchen ☎ 07851 253587
Tattenhall — contact: Brenda Platt ☎ 07851 104210
Breaktime
A free service which offers short breaks to carers of older people. The service strives to provide support tailored to the needs of
the carer and the person they care for. It is of a flexible nature and is run by staff who support the partnership between the carer
and the volunteer.
Email: breaktime@opalservices.org.uk
Contact Jean Toyne ☎ 07563 156220
Go On LIne
A drop in service which helps older people learn how to access the internet, with one to one support of volunteers.
Everyone learns at their own pace from the basics to surfing the net, skyping and using email.
The sessions are run in social settings in local venues.
Email: goonline@opalservices.org.uk
Contact Carol Hitchen — ☎ 07851 253587
Volunteers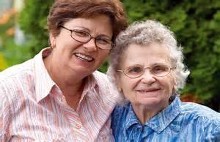 Becoming a volunteer for one of our services can be a rewarding and life enhancing experience. Our volunteers are the backbone of all our services, and we are always looking to recruit more people.
Volunteers can offer their time and energy on a weekly, fortnightly or monthly basis.
Email: volunteering@opalservices.org.uk
Contact Jean Toyne — ☎ 07563 156220
Learn more about OPAL Services