This page contains information on how to contact your Local Police and Safety Officers.
Reporting incidents on the 101 Non-Emergency Number
We know there are some issues with the public contacting us on the 101, in particular around waiting times at peak times of demand.
The 101 service in not where we want it to be at the present time but we're working hard to get it back to a level that we, and the public would expect it to be.
In an emergency, always call 999.

Coronavirus COVID-19
It is very much business as usual for the Dragon Hall Team, all be it in a different form.
Due to social distancing much of what we would have done face to face is now being carried out by phone or email. High visibility patrolling continues to be carried out around Farndon, Tattenhall and Mlapas Wards.
For the most up to date advice on the daily changing situation log on to the UK GOV website.

Surgeries and Meetings
Tattenhall and Malpas Wards Surgeries and Meetings — PCSO Jon Hurst
Due to Coronavirus (COVID-19) for the foreseeable future surgeries and meetings have been cancelled.
You can contact your local PC and PCSO by email, online at https://www.cheshire.police.uk or leave a massage on the 101 non-emergency number.
Please do not use social media as a means of contact as it is not monitored 24/7.
The Police now have their own face book information page for the Malpas and Tattenhall areas; This can be found at:
https://www.facebook.com/ThallMalpasPol
.
Previous Crime reports update can be found HERE
For more information on Crime prevention see HERE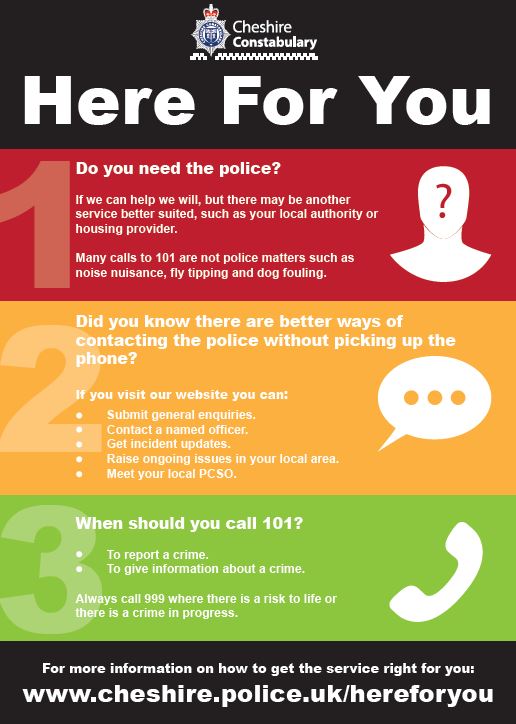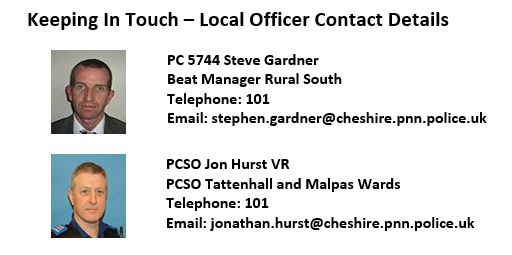 Cheshire Police Alert
Cheshire Police Alert is the community messaging system brought to you by Cheshire Constabulary and servicing the whole of Cheshire. By registering with Cheshire Police Alert, you receive news and appeals, local crime Information and crime prevention advice — direct to you as an e-mail, mobile text or voice message. Registering with this site is completely free, and not only allows you to receive messages about your local area, but also allows you to feedback information to your local policing teams to help them better police your neighbourhood' Sign up at...https://www.cheshirepolicealert.co.uk/